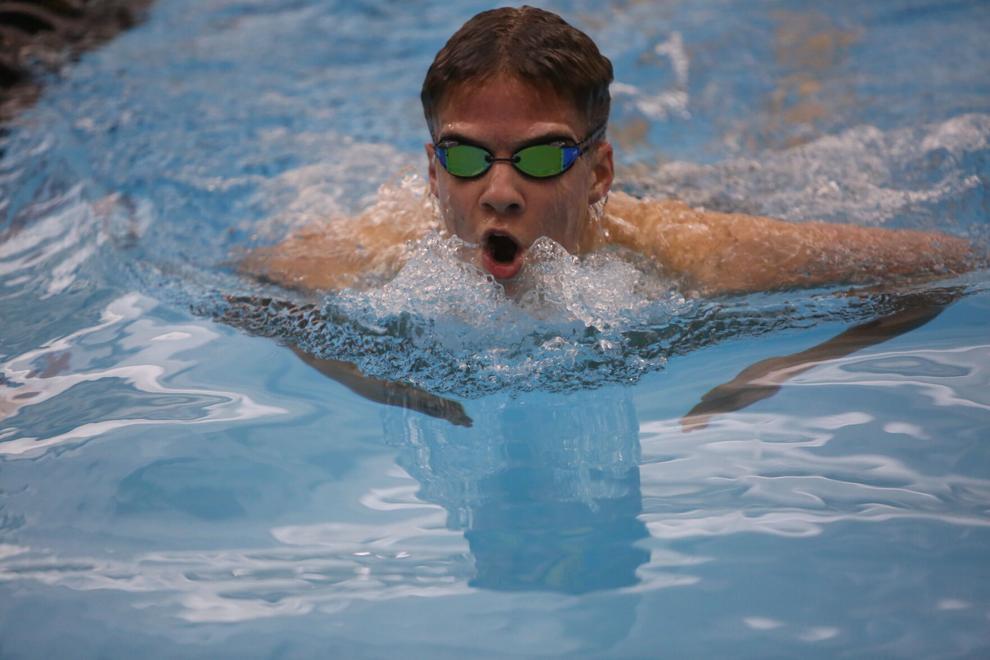 By COREY STOLZENBACH
JASPER — The first coed meet of the season was a success for Jasper Monday night.
The Wildcats welcomed Evansville Bosse, Tecumseh and South Knox, cruising to victories on the boys and girls sides. The girls won every swim event on the night with a team score of 168 to 110 for Tecumseh and 40 for Bosse. The boys also grabbed a win with 164 team points, with the Spartans scoring 56 and the Braves notching 14 team points.
"It's always good to get a win," Jasper swim coach Kristin Gutgsell said. "Obviously, more important to us is our times right now to see where we're at in the season - just getting started, and trying to see where we're at comparable to this time last year.
"But yeah, getting the win is always nice - that's what we want to try to do is come in and win the meet, but we swam well. So, that's good."
South Knox and Tecumseh won some of the earlier boys events, though Jasper's depth came through in these some of these events. The Wildcats were the only ones to field a squad in the 200 medley relay, trotting out two of them. Mason Thornburgh, Luke Dawkins, Amos Buschkoetter and Noah Wagner won this event.
Wagner also won the All-Jasper competition in the 500 freestyle against Thornburgh, and Evan Mehringer prevailed against Joey McGimpsey in the 100 backstroke.
The Wildcat divers also made their debut Monday night, as they didn't compete nine days earlier in Mt. Vernon. They were the only team to field any male divers Monday evening, with Seth Eckert and Mitchell Mauck going at it on the boys side, with Owen Franks competing as a junior varsity diver. Eckert prevailed on the boys side.
"Seth is really doing a great job," Jasper diving coach Kristy Vaughn said. "I hope he continues to progress as he has. He looks very clean coming along very well.
Jasper's girls had Ella Kelly and Taylor Bachman competing with Tecumseh's Ella Richardt and Kora Kaiser. Kaiser won the event on the girls side, but Bachman and Kelly finished second and third, respectively.
Vaughn said Kelly needs to get some experience because she's new, but Bachman is ahead of where she was last year.
The diving coach knows the quality of competition that Jeffersonville and Castle will bring Nov. 30 at Jasper. It'll be a reverse week, which means divers will be required to perform specific dives, compared to their choice.
"Reverses, we've got to focus on those this week for sure," Vaughn said. "Jeff and Castle are both very competitive teams, and we need our divers to score well."
Gutgsell told the Herald on Monday that the Wildcats are very happy to be competing at this point in time, though they have a lot of things to work on. She said they must keep working hard to continue getting into shape and not get tired at the end of the races.
The Wildcats had some of their upcoming meets cancelled. They were supposed to return Thursday to compete against Vincennes Lincoln and South Knox, and the boys were supposed to compete Saturday in the Tell City Relays before that, too, got cancelled.
So, it's back to work to get ready for the Knights and Red Devils.
"We're just going to keep hitting it in the water so that we can keep continuing to get into shape," Gutgsell said. "Really, our goal is the end of the season. That's a big meet for us next week and obviously, we'll focus on that, but we still got a lot of hard work to do...We got to keep grinding, got to keep working hard and just keep working."