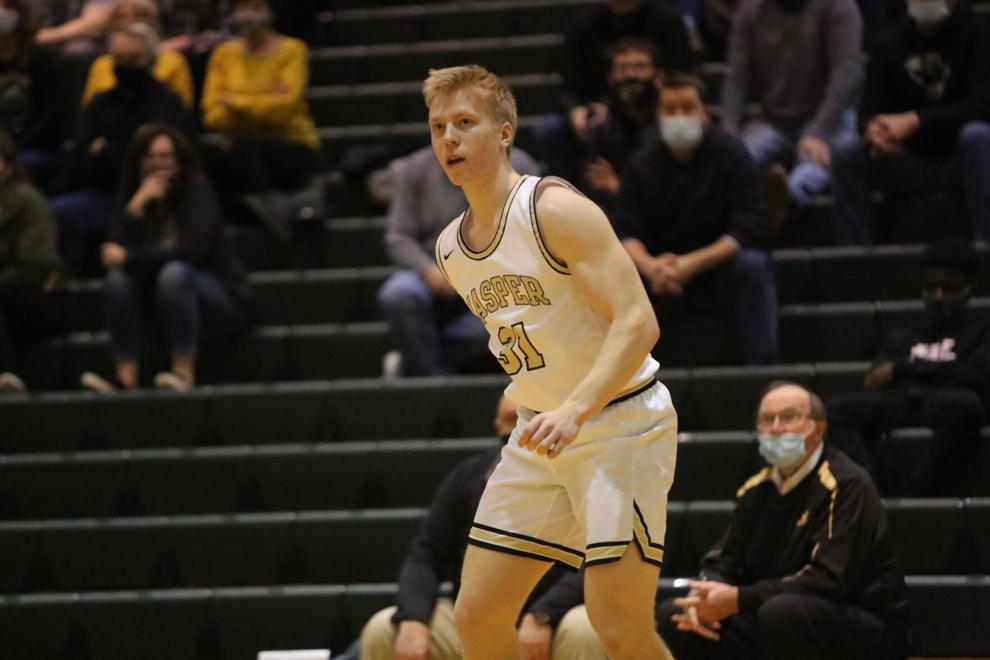 By COREY STOLZENBACH
EVANSVILLE - A miracle looked like it could've happened before Julian Johnson dashed Jasper's dreams.
The Wildcats (6-17) trailed Evansville Central, 48-44, late in their Sectional 16 game Tuesday at Evansville North, but the Bears senior made both of his free throws for a 50-44 game, putting things out of reach. Jasper mathematically still could've tied with less than 10 seconds left, but it fell, 50-46, after one final layup. 
The conclusion of the tough year left a ton of things that Jasper coach John Goebel will choose to remember about the 2020-21 Wildcats. He'll remember them as a team that was fun to be around and didn't quit, but also didn't get many breaks and lost a lot of close games. Goebel cited this year's Wildcas team as one that was better than its 6-17 record.
"Obviously, we're all disappointed," Goebel said. "We didn't get into coaching because we're not competitive - we're competitive. We're disappointed. The players are hurting and they're disappointed, but the reality is, this season just didn't go our way."
Jasper led on the opening bucket of the game, but Central staved the Wildcats off from reclaiming it after that point. Goebel took some timeouts in the first half that propelled the Wildcats to respond after the Bears went on some runs. Down, 11-4, Jasper went on a 5-0 run to trim the deficit to 11-9.
The Bears responded with a 10-0 run, however, leaving the Wildcats trailing by 12. Yet again, however, Jasper responded when junior Gus Heichelbech had a couple of quick buckets - prompting the beginning of an 8-3 run for Jasper to end the first half.
Sophomore Carter Mundy drained a three in the third quarter that reduced Central's lead to 26-20, but that's when things got away from Jasper for a bit. Central senior Caiden Byrd knocked down a couple of threes that had the Wildcats trailing, 32-20. Goebel called a timeout after that, but unlike the first half, Jasper couldn't consistently respond with a run right away.
"I think the theme of the night was just poor shooting," Goebel said. "We shot 38 percent from the field, 25 percent from the 3-point line - and scored 46 points and lost by four. So, with a little bit better shooting accuracy, obviously, we're not playing from behind late in the game and giving ourselves a better chance to win.
"But when you hold a team that can hit the bucket as well as Evansville Central does, when you hold them to 50 points, - you should put yourself in a position to win," he continued. "And because of our inconsistency shooting the ball, it cost us, and I think sometimes when you analyze a game, it comes down to the simplest of things. We didn't shoot real well tonight, and that ended up being the difference."
However, just as it did all season, Jasper stayed in it and did not give up. A three from junior Isaac Day made it single digits again, 48-41. Down 48-42, Mundy sank a pair of free throws with 56.3 left for the 48-44 score. Yet, Jasper could not make it a single-possession game with a bucket at the rim, and Johnson then converted.
Central is set to take on Evansville Harrison at 8:30 p.m. on Friday.
Some of Jasper's athletes will now focus on getting ready for spring sports, but Goebel and the coaching staff will make sure to get ready for next year.
"We're going to put together a good summer, just like we always do," Goebel said. "We didn't get to have a summer last year because of COVID - everything was shut down. But hopefully, the young guys on this team want better results next year, hopefully, that they'll spend time in the gym working on their game and improving.
"...The next step is putting together our games and practices and schedule for the summer and being in the gym as much as possible," he later added.