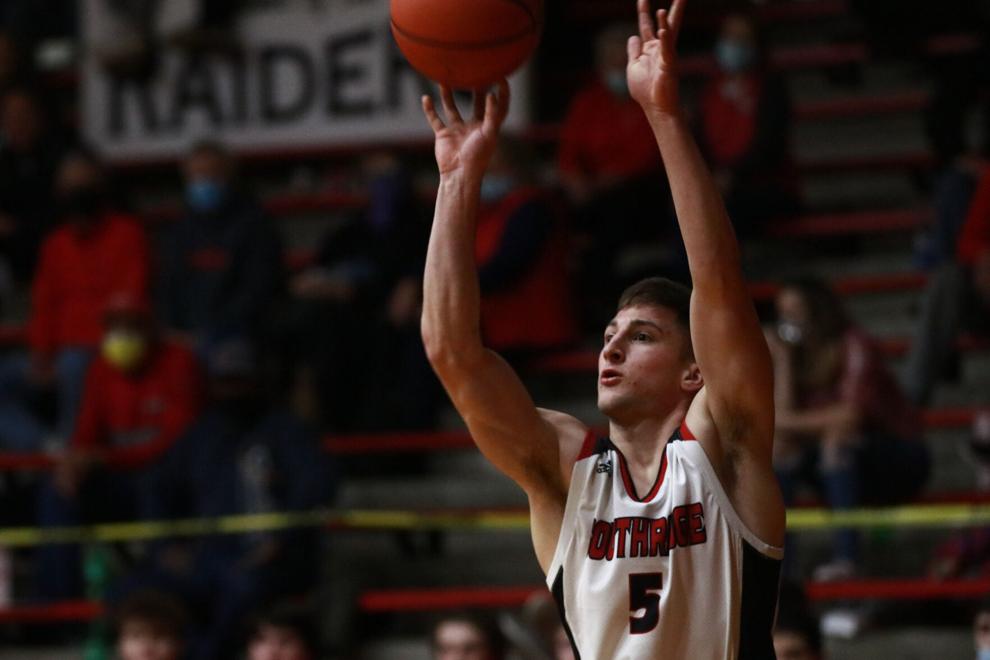 By Herald Staff
The boys basketball sectional games begin Tuesday. Here's a look at our teams.
Jasper
Record: 6-16, 2-7.
Opponent: Versus Evansville Central at Evansville North, Tuesday, 8 p.m.
Last Meeting: Central defeated Jasper, 45-42, Jan. 26.
Jasper earned a convincing 54-35 victory at Vincennes Lincoln on Feb. 23. Two days later, the Wildcats fell in a tight 59-55 overtime battle at Bedford North Lawrence.
Jasper sophomore Carter Mundy scored 13 points in the win over the Alices. That victory was a statement win in the teams' rivalry — Lincoln finished the regular season with a 2-15 record.
Wildcats head coach John Goebel is 187-135 in 14 years at Jasper. Goebel is 273-172 all-time.
Southridge
Record: 12-10, 8-3.
Opponent: Versus Evansville Mater Dei at Southridge, Tuesday, 6:30 p.m.
Last Meeting: Mater Dei topped Southridge, 70-55, Dec. 5, 2020.
Southridge responded to a two-game losing streak in an emphatic way on Feb. 25. The Raiders claimed a 42-24 victory over Boonville at Memorial Gym.
Those 24 points were the fewest Southridge has allowed in a game this season. The Raiders have limited opponents to 46.6 points per game.
A three-game winning streak gave the Raiders a boost in the regular season. Southridge rattled off a 68-46 win over Forest Park on Jan. 29 in Ferdinand, a 52-38 victory on Jan. 30 at Washington and a 77-63 triumph over Evansville North on Feb. 4 in Huntingburg.
Forest Park
Record: 16-5, 7-3.
Opponent: Versus South Spencer at Southridge, Tuesday
Last Meeting: South Spencer emerged victorious over Forest Park, 78-51, Jan. 15.
Forest Park begins postseason play with ample momentum. The Rangers are riding a seven-game winning streak and have won 10 out of their last 11 games.
Rangers junior Drew Howard scored his 1,000th point in a 70-58 win over Gibson Southern on Feb. 23 in Fort Branch. Howard scored 21 points in that victory.
The Rangers went undefeated in February. The number 70 provided a bit of magic in Forest Park's final two wins — before the Rangers defeated Gibson Southern, they earned a 70-60 win over Tecumseh on Feb. 20 in Lynnville.
Northeast Dubois
Record: 8-14, 4-4.
Opponent: Versus Evansville Day at Wood Memorial, Tuesday, 8:30 p.m.
Last Meeting: Northeast Dubois triumphed over Evansville Day, 55-51, Mar. 7, 2020.
Last season, the Jeeps stormed through the bottom of the sectional bracket and captured a sectional championship over Day at Springs Valley. Seniors Logan Mehringer, Dante Miller, Ty Riecker and Nick Lueken look to lead Northeast Dubois to another sectional title.
These teams were scheduled to meet on Feb. 16 in Evansville, but the game was postponed due to inclement weather. Day finished the season with a 10-5 record.
Northeast Dubois enters sectionals on a four-game losing streak, but the Jeeps have allowed just 49 points per game this season.
Heritage Hills
Record: 16-3
Opponent: Versus Evansville Memorial, Tuesday, 6:30 p.m. at Boonville.
Last Meeting: Heritage Hills beat Memorial, 66-56, Dec. 5, 2020.
Heritage Hills ended the regular season on a three-game winning streak. Most recently, the Patriots captured a 63-48 victory over Perry Central on Feb. 26 in Lincoln City.
Heritage Hills and South Spencer tied for the most Pocket Athletic Conference regular-season wins (10). However, the Patriots defeated the Rebels in a 61-50 contest on Feb. 13 in Lincoln City.
The Pats have allowed the fewest points per game in the PAC — 45.1.
Additionally, Heritage Hills has scored 56.6 points per game this year.