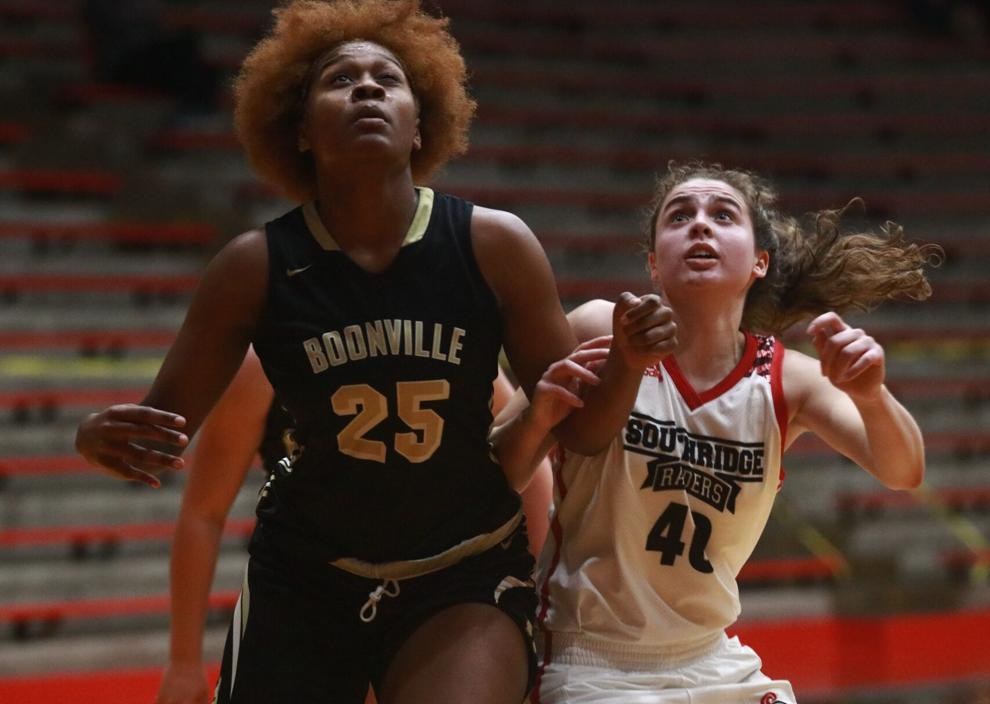 By JIMMY LAFAKIS
HUNTINGBURG — As the Southridge (2-3, 1-1) girls basketball team fought through the latter stages of Monday evening's contest against Pocket Athletic Conference rival Boonville, the Pioneers tested the Raiders' mettle. Although the game needed overtime, Southridge head coach Greg Werner helped the Raiders maintain their composure in the 46-43 win.
"They did an outstanding job," Werner said. "There's just a little bit too many mental mistakes going on. Physical mistakes, we can handle that. Mental mistakes, we'll work on cleaning up. It's my job as a coach to help them clean those things up. You don't clean them up unless you're outplaying competition."
From the opening tip, the Pioneers blitzed the Raiders with an extended press. Proficient passing allowed Southridge to quell the early pressure. Still, Werner noted some room for improvement.
"We have to have a little better killer instinct," Werner said. "We get a lead and we relax. I want them to get a lead and I want them to put away. If they execute, they will. We just have a lack of execution, but I believe in them greatly. They're going to learn more from this because we still won the game."
On the other side of the ball, Southridge's tight defense forced Boonville into some uncomfortable shots. The Pioneers tried to penetrate, but found little success. Instead, Boonville settled for several long 2-point jump shots.
"I have to get the rest of my kids developed," Werner said. "I know we're not deep right now, but we're going to get deeper. It just takes time getting them ready. I don't throw them out until I have them ready."
At halftime, senior center Abigail Kerkhoff led the Raiders with seven points. Southridge junior forward Mikah Goeppner posted six points in the first half.
Southridge junior Myah Montgomery did not score a point in the first two periods. As the second half unfolded, Montgomery made her presence felt in the paint with a team-high 14 points.
The guard used her size advantage and attacked the basket with vigor. The Pioneers swarmed the indefatigable Montgomery with double-teams, but she found her way to the charity stripe.
"She knows that I believe in her, 100 percent," Werner said. "I also know that she's got to play to her ability. Even though we're not where we want to be and she may not be where she wants to be, she has to start understanding. I think she did. I challenged her — I'll just leave it at that. I challenged her at halftime."
The fourth quarter showcased contrasting styles of play. Boonville found its rhythm from 3-point range, while Southridge attacked the basket.
A late Boonville surge forced the overtime period. The Pioneers grabbed an early 42-41 lead, but the Raiders battled back.
After Southridge made a final defensive stand, the Raiders exhaled and joined one another in celebration. Because Boonville could not find an open look, the last possession prompted the collective sigh of relief.
Senior guard Kennedy Nalley tallied 13 points for the Raiders. Kerkhoff also finished in double figures with 11 points.
"We're getting that game conditioning and finding that second wind," Werner said. "We were winded a little bit. If they get that second wind, they can go."
Southridge will return to face county and PAC rival Forest Park at 7:30 p.m. on Dec. 1 at home.