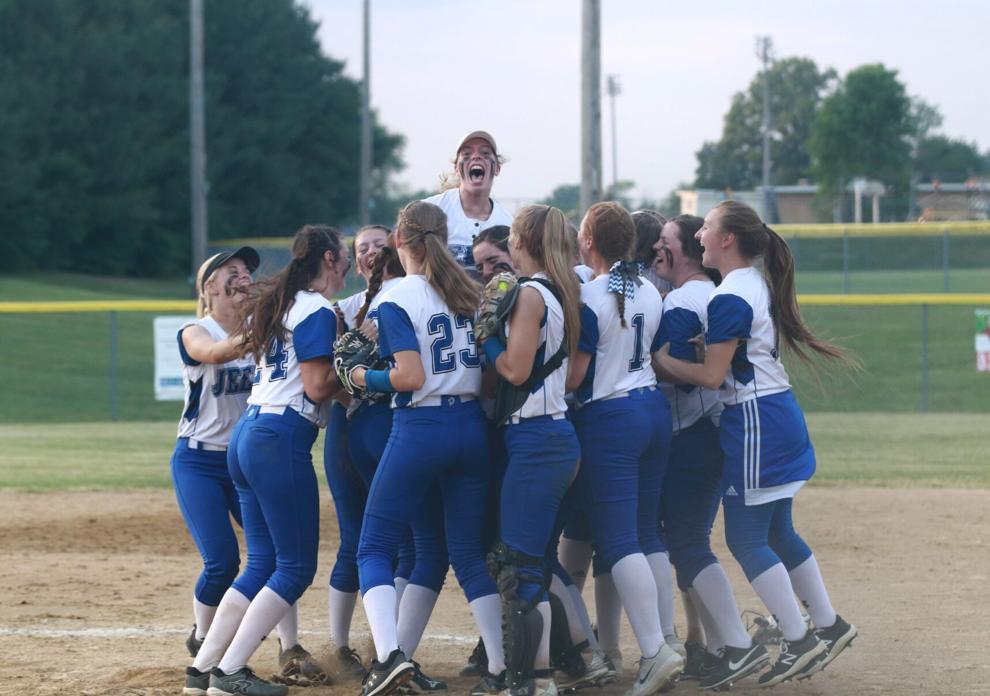 BY JIMMY LAFAKIS
OAKLAND CITY — Throughout the season, Northeast Dubois (17-7) head coach Dion Terwiske has subscribed to a simple theory — strike early and often. The Jeeps adhered to that notion during a 23-0 run-rule over host Wood Memorial in Tuesday evening's Sectional 64 championship game.
"The offense showed up tonight," Terwiske said. "We told them that it needed to be all about offense tonight and to just do what we do. They responded very well."
The game marked a sweet repeat for the Jeeps, who defeated the Trojans in the sectional championship back in 2019. This time, Northeast Dubois batted around the order in a strong eight-run first inning. The outburst paved the path to the lopsided five-inning victory.
"It really sets the tone for the game," Terwiske said about the first frame. "First pitch, they think they've got as good of a chance to win it as we do. We put up eight in the first. You do that to a team, it changes the tempo of a game. You always want to do that. Even if you can put on one or two, it's good. If you can put up eight, it pretty much sets the tone for the night and gives all of our hitters confidence."
The Jeeps were equipped with plenty of confidence after defeating Cannelton in a 22-0 run-rule on Monday evening, but they outdid themselves on Tuesday. Each Northeast Dubois hitter recorded at least one hit, knocked in at least one run and scored at least one run. Junior Hadley Fuhrman turned in a stellar 4-for-5 performance and drove in a team-high five runs.
The highlight of Fuhrman's hitting clinic came in the bottom of the fourth inning. After she launched a deep drive over the wall in center field, she embraced the opportunity to celebrate with her teammates at home plate.
"It felt really good," Fuhrman said. "I celebrated once this year at South Knox with them. It felt good to do it here in sectionals."
Northeast Dubois freshman Landy Rasche, sophomore Rhylan Kalb and senior Becca Brosmer added three hits apiece. As the starting catcher, Brosmer took charge behind the plate and aided Fuhrman in her complete-game shutout on the mound.
"I knew right away that I had to be locked in and come out with the win," Fuhrman said. "I knew Becca had my back. I just pitched to her."
The Jeeps recorded 22 hits and committed just one error. As the team celebrated on the field, Terwiske lauded the Jeeps' loyal fan base for their enthusiasm.
"Our fans travel very well," he said. "These girls like to see that. Before the game, I think it helps settle them down. They see a lot of familiar faces in the crowd. It's not as hostile of an environment when we've got as many or more fans than the home team. Obviously, it settles our people down."
Northeast Dubois returns for the Regional 32 championship June 1 at Loogootee. The Jeeps lost a 4-1 contest against the Lions on May 17. Northeast Dubois has never won a softball regional championship.
"We thought that we could have played better than what we did," Terwiske said. "We're looking forward to a rematch with them and a shot at the regional. That's why you play for the sectional — to keep moving on and to get a shot. We'll take that shot."