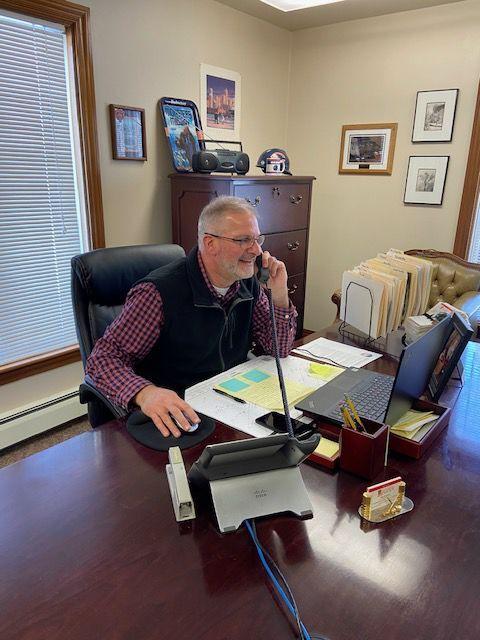 By LARRY LAGRANGE
Assuming a leadership role is a daunting task under any circumstances, and when you take over for former Park and Rec leader Ken Buck, you know it's not going to be an easy ride. Ken is a well-known personality around town who did an outstanding job running a complicated organization. As the team leader, Tom Moorman is busy getting his feet on the ground and setting up how he wants the future of the Jasper Park Department to go.
Here's an interview with him.
What is your background?
"I worked for a small family business for 28 years in sales and management. The company's main focus was on wood manufacturing, so Jasper was the perfect fit. My wife and I moved to Jasper 24 years ago to open a branch here. My passion for Jasper really blossomed after being on the Jasper Chamber of Commerce Board. My previous positions provided leadership skills and budgeting experience, as well as local networking relationships."
Why did you apply for this job?
"The Chamber of Commerce is a great resource for many things, and when I needed to find a job, that's where I turned first. (Chamber Director) Nancy Eckerle and I discussed this position and its duties and she thought I'd be a good fit. I had discussions with several folks about the Park Director position and they came to the same conclusion as Nancy. I also did research on the requirements and duties of a Park Director, and that list includes relationship building skills, leadership ability and budgeting. The first skill I excel at, the second I have had plenty of experience with that, too. Budgeting is something that has been included in my previous work positions and volunteer opportunities. When applying for the Park Director position, I participated in an individual interview as well as a panel interview. I was then selected from a group of excellent candidates."
In this short time, what have you discovered?
"I knew I would have big shoes to fill replacing Ken, but the team he assembled at the Department has helped to make a smooth transition. I knew that government work would be different from the private sector, but you don't know how different until you're in it. There is more red tape, the purpose being checks and balances, but it's still different."
Discuss some projects/ideas that are in the works.
"Our main goal right now is to focus on what we currently have. The website is being tweaked here and there with small steps; Jaycee Park is getting some play equipment replaced, that sort of thing. Discussion is being held regarding adding junior tees at Buffalo Trace Golf Course on the front nine and working with Sultan's Run on the First Tee program. We are looking at Buffalo Trace's hole 14 to possibly do a makeover. If you've played that hole you know why (this green has a steep slope that makes putting or chipping a challenge). We are considering the fee structure for kayaks and canoes at Beaver Lake. We are keeping an open mind for projects down the road as well, listening to what the folks want."
I read something recently which explained that leaders must know they aren't always going to be liked. The minute you put your hand up to lead, someone is going to shoot you down. That is just life, so don't be swayed. Work to be kind and focused on communications. Respect will come, and if you're lucky, you might even be liked. Running an outfit with 14 full time employees, 39 permanent part time workers, and 70-75 summer helpers takes time to understand the many challenges.
We are blessed with an outstanding park system in this town, but even the good can be made better. Tom Moorman and his staff are working to make even greater local recreational opportunities available. After the year we've had, we need all the outdoor activity options we can get.