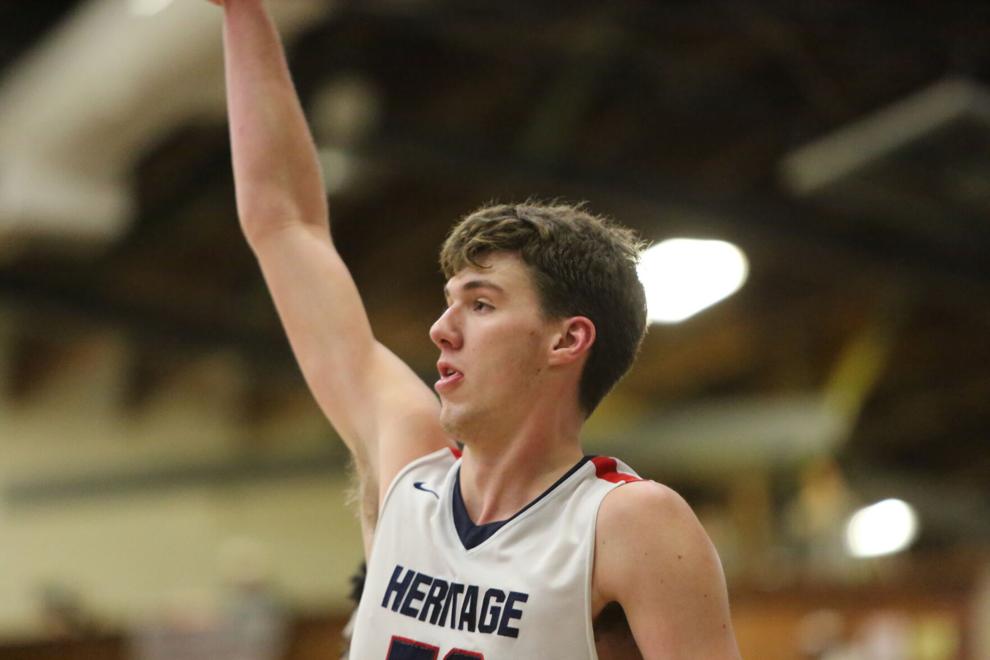 By COREY STOLZENBACH
BOONVILLE — Blake Sisley answered the call time after time Friday night, delivering 40 points, a point off tying the school record, in Heritage Hills' 62-51 win against Evansville Bosse.
Sisley not only provided quantity, but also quality to his performance Friday night. Whether it was being a force inside, going 9-of-11 at the free throw line, getting off a buzzer beater to end the third quarter or nailing a timely 3-pointer in the fourth quarter, the senior big man had himself a career night for the Patriots (18-3). His performance in Friday night's Sectional 32 semifinal ensured the Pats would be back today to try to win their second straight sectional championship.
The things Sisley does every night just seems to amaze coach Nate Hawkins.
"He's just always been consistent and so good," Hawkins said. "I'm so proud of him from the standpoint, of course in this basketball game and what he was able to do, but he's a basketball guy. He has put his heart and soul into playing basketball, and he has been somebody in this program that helped us win a sectional championship last year, a kid that's just continued to evolve. His development has been incredible."
However, even though Sisley had six points in the opening quarter, things didn't start well for the defending sectional champions. Heritage Hills had some early struggles making shots, while Bosse was knocking down shots that even the Pats contested. They trailed Bosse, 19-11, after the opening quarter of play.
"It was a very intense game," Hawkins said. "They were running up and down the floor, hitting shots, and that's just being down. We just got our butts kicked in the first quarter."
Heritage Hills maintained its defensive intensity and rebounding effort even when things weren't going its way Friday evening, but things eventually changed in its favor. The Pats went on a 9-0 run for their first lead of night — with the run being capped by a three from sophomore Marcus Becher for a 20-19 edge.
The two teams exchanged buckets and leads through the duration of the opening half, as junior Jameer Ajibade drained a triple late in the first half for the 30-30 equalizer. However, Becher wasn't done making timely shots, as senior Jake Johnson fed Becher in the corner for a go-ahead three to give the Pats a 33-30 advantage at halftime.
The Pats didn't have a 22-point outburst in the third quarter, and Bosse had reclaimed the lead, at 40-39, but Sisley made sure the Bulldogs wouldn't hold onto that lead for long. Heritage Hills and Evansville Bosse were tied at 42 when Sisley once again flaunted his inside presence. He missed a bucket in the waning seconds. However, he pulled down the offensive rebound and got off a one-handed shot just before the buzzer to send the Heritage Hills faithful into a frenzy, and his team with a 44-42 advantage after three.
"The ball bounced my way, got it in before the buzzer, I think that was a huge momentum booster for us," Sisley said.
The Bulldogs reclaimed the lead at 45-44 and were in a 47-47 tie when the Pats took over the fourth quarter. Sisley's bucket untied the game, and then his trey in the fourth quarter made it a multi-possession game at 52-47. The Pats were then in the driver's seat by going on a 10-4 run the rest of the way.
"We got defensive stops," Hawkins said. "That shot Blake hit in the corner was big. That gave us that five-point separation there right in the quarter, and I tell you what, that was huge. And we just kept guarding...It was defense, it was our defense. It's what we've held our hat on all season long."
Heritage Hills has waited a year for this moment, playing for the chance to get back to this point, and now it has. The Pats have won 10 sectional crowns in program history, and have repeated as sectional champions two times before. Here is the opportunity for this Heritage Hills group do more special things, as the last time the Pats won back-to-back sectional championships was in 1988 and 1989.
The championship game is set for 8 p.m. against host Boonville, who came away with a 53-42 win Friday against Gibson Southern.
"We don't need to change who are or change anything," Sisley said. "We're playing defense at a really high level right now, it's bothering a lot of teams. If we just keep doing that, we're going to be just fine."
"We have to be ready to match this kind of effort that we had tonight, and if we can do that, we're confident we can take home the Sectional 32 crown," Hawkins said.