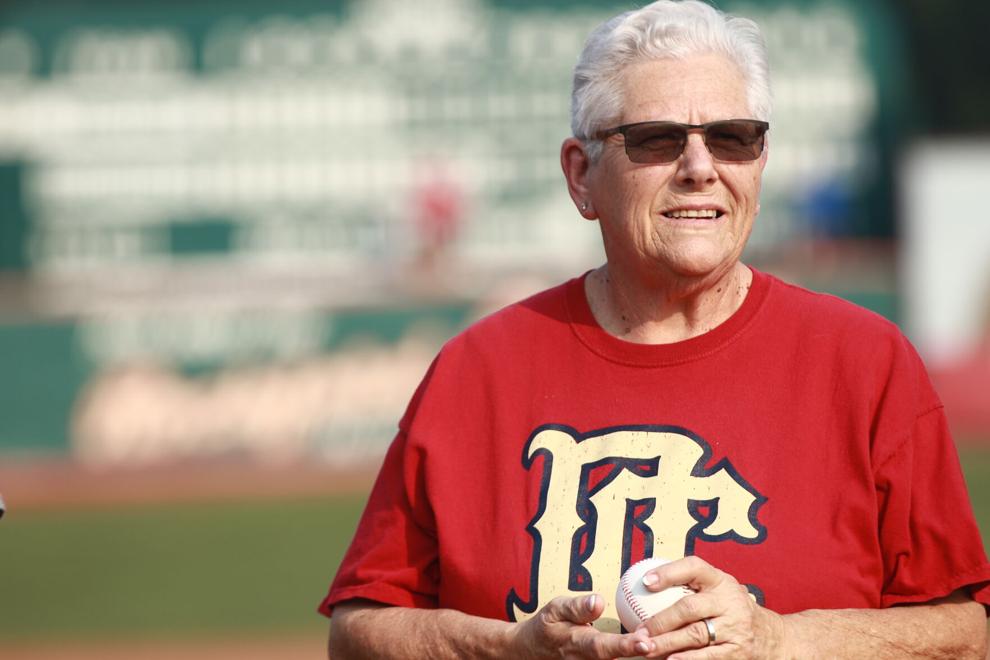 BY JIMMY LAFAKIS
Coming together 
HUNTINGBURG — There are certain times in life where the people working behind the scenes make profound impacts. A group of those noteworthy individuals assist the Dubois County Bombers (24-14) on a daily basis. The Bombers' host families weave the team's fabric, and their steadfast efforts are critical throughout the scorching Southwest Indiana summers. 
Summer baseball would not be possible without host families. The official Bombers program recognizes the host families on its second page. The program reads: "Thanks, host families — we couldn't have a team without you!"  
Although Dubois County took an 8-2 loss to the Muhlenberg County Stallions on Tuesday evening, the Bombers expressed their appreciation for their host families in a special pregame ceremony. 
"They're just good kids," Bombers owner Mike Uebelhor said. "They're focused on baseball." 
Uebelhor hosts Guy Lipscomb of Belmont University and Victor Alvarez of Oakland City University. In his words, the Bombers carry a "young, vibrant spirit" around the dugout. 
Kurt and Shannon Fuhs also take pride in stepping up to the plate. They host Ryan Johnson of Bellarmine University. Shannon gives tours of League Stadium and earned a role as an extra in "A League of Their Own," the classic 1992 movie filmed at the park. 
Win or lose, Kurt and Shannon enjoy chatting about the games with the Bombers. 
"Every team has a different bond and personality to them," Shannon said. "We love to win. The Bombers certainly have had a lot of success. The players that we have kept in touch with over the years will still say that this was the best summer of their lifetimes."
This year's iteration of the Bombers has established a successful campaign on the diamond. They embrace League Stadium's retro environment, but their passion for the sport extends past the stirrups and wood bats. Well-executed bunts or deep sacrifice flies will stir excitement within the dugout. 
"You can kind of tell if the team bonds really well," Kurt said. "This year's team seems to have bonded a lot. They're together a lot." 
Those relationships are strengthened on and off the field. 
"We have a few things that we try to do every year to keep it fun and to bond with the families," Shannon said. "A lot of times, families, girlfriends and parents will come and stay over on the weekends. We'll do some cookouts. It's fun getting to know people from all over." 
Kurt and Shannon enjoy welcoming the Bombers for seafood boils. The team indulges in shrimp, crawfish, scallops, sausage, potatoes and more. 
"We've had really good experiences with the kids," Kurt said. "They're respectful."  
Laying the foundation 
Cheryl Ranger has served as the Bombers' host family coordinator for 25 years. She pairs players with host families and maintains relationships with families and coaches throughout the seasons. As she reflected on the memorable experiences over her tenure, she expressed her appreciation for the players' growth. 
"Most of them leave with confidence," Ranger said. "I think watching that is really fun — knowing that they're loving what they do and living their dream one more summer."
Ranger hosts Bellarmine's Brett Pfaadt and Will Aubel. She establishes friendships and bonds while she keeps a keen eye on the Bombers' development. Ultimately, the players are creating the building blocks for their futures. 
"If they have a weak spot, the coaches try to strengthen that spot," Ranger said. "It just gives them more confidence when they go back to school. 'Hey, I can do this. I can play wherever he puts me.'" 
For Ranger, the Bombers resemble a fountain of youth. Uebelhor highlighted her diligent work with the coaches and players. 
"It's a tremendous asset to have her," he said. "It takes a lot of work off of my plate." 
As the Bombers close out the regular season, Ranger will observe the action from League Stadium's first-base side. She is at peace when she watches her favorite team take the field. 
"I just want to wish them all the luck in the world," Ranger said. "Of course, I would love to see them get first place. What they get, they get. They played hard. I'll be happy with whatever the outcome is."