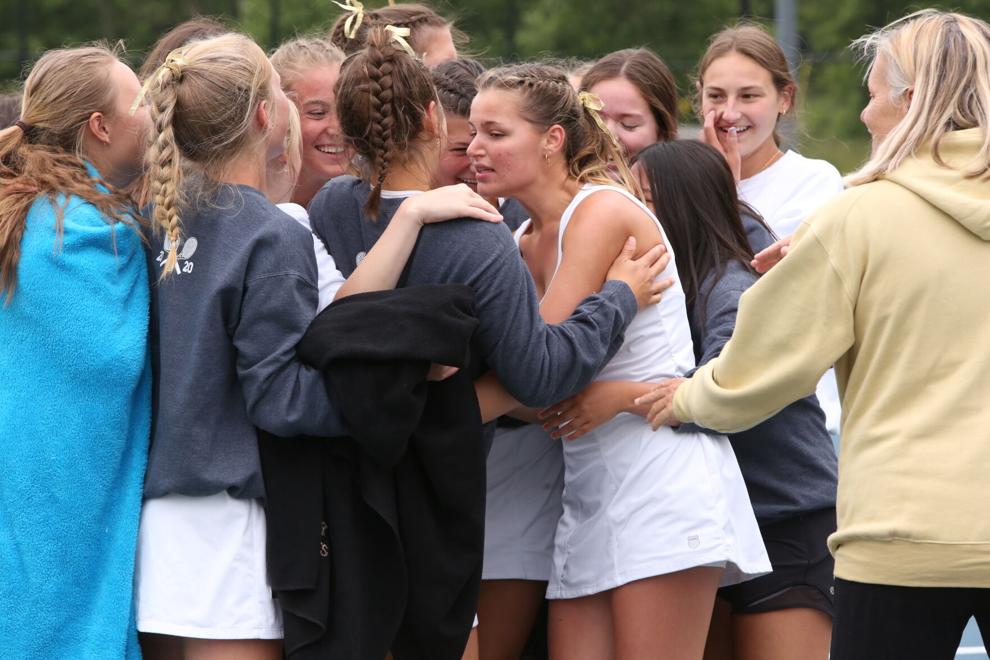 By COREY STOLZENBACH
JASPER - It's been an eventful week for Jasper tennis coach Scott Yarbrough and his daughter, Josie, and it continued into Saturday's 4-1 semi-state win against Floyd Central.
The Wildcats (20-4) had already clinched against the Highlanders following a two doubles win for sophomore Brynne Brosmer and freshman Paige Giesler, which shifted all eyes to Josie, fresh off of graduation Friday night, and sophomore Amelia Meunier from Floyd Central. Josie grabbed the first set 6-4, but Meunier evened things in the second set, also 6-4.
"Amelia, first of all, is a great player - great player," Josie said. "She got a lot back. She stayed very consistent, I think she was patient, and pushed me - and I think I was not ready for that in the second set. I think it threw me off guard a little bit, but she did a lot of good things - just keeping the ball in play and knowing when to hit winners and that kind of thing."
"I thought both girls looked pretty tired, and I think the fact that two doubles clinched the match relaxed her enough a little bit," Scott said.
Josie affirmed what her father had said that the two doubles win took the pressure off of her. She made sure to slam home the winning point for a 6-4 victory in the third set - igniting the lively Jasper crowd into an uproar, and putting the finishing touch on an emphatic win for the team's first semi-state championship since her freshman season in 2018.
"I was like, 'Oh yeah, I'm going to slam this down,' and it was perfect - it was like all the tension just kind of like left my body, it was like relief just flooded over me, it was an absolute amazing way to win that match," she said.
The clincher came when Giesler and Brosmer won the decisive third set for the Wildcats in the two doubles. Giesler and Brosmer came away with a 6-3 win in the opening set, but back came junior Kaitlyn Jones and sophomore Sophia Wood of the Highlanders to even things by taking the tiebreaker of the second set.
"When I walked over to them, the first thing said Brynne said was, 'We've got this,'" Scott said. "So, for a sophomore to say that is very comforting to me."
Scott noted how Giesler and Brosmer stayed back more, weren't quite as aggressive going to the net and had a lot of serves in while returning a lot balls, too. He thought they had momentum in the first set of the match, but Floyd Central took it in the second set. However, he thought Giesler and Brosmer grabbed it in the third set and didn't let go.
"This is really exciting because we could see the other matches going on," Brosmer said. "We knew our singles matches were struggling a little bit, but we knew we could do it. We pulled through at the end."
"It was really exciting," Giesler added. "I'm glad we got to partake in this."
Not every match was a nail-biter for the Wildcats, though. Sophomore Brailyn Whaley and junior Delaney Wigand took care of business in short order in the one doubles with a 6-1, 6-1 win over sophomores Ella Leitner and Jillian Branham.
Sophomore Ally Wigand also emerged victorious with a 6-0, 6-0 win of freshman Ivy Hasenour in the three singles.
"She just goes, goes, goes, and we may say a word or two, but when she's rolling, we'll just let her go (and) do her own thing, and she knows exactly what the expectations are," Scott said of Wigand.
The lone match Jasper lost was sophomore Allie Schnarr to freshman Elizabeth Banet of Floyd Central. However, Scott isn't concerned when it comes to Schnarr.
The Wildcats are scheduled to play Fishers in the state tournament on Friday at Carmel after Fishers came away with a 4-1 win against Delta in semi-state.
"At this late in the year, you're not doing anything fancy," Scott said. "The one thing we do need to work on with doubles a little bit though is we need to work on our net movement and closing in."