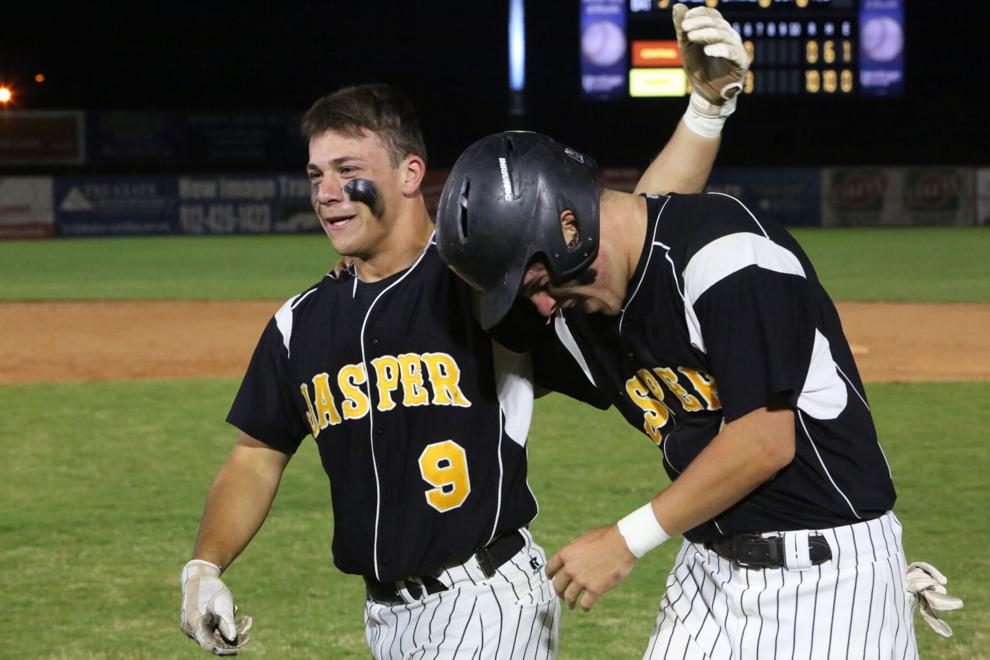 By COREY STOLZENBACH
EVANSVILLE - They don't typically get a lot of at-bats, and for some of them, playing time as a whole doesn't happen all the time. Yet, they were the ones who helped put the finishing touches on Jasper's 39th sectional championship on Monday - the most in state history.
Seniors Kaleb Werner, Will Troxler and Caleb Burger have seen more time in the dugout than they have at the plate this season, though Troxler gets his playing time as a courtesy runner for the Wildcats (27-2). However, they all had their at-bats in the bottom of the sixth on Monday to help Jasper put away Evansville Central, 10-0, for the Sectional 16 crown at Bosse Field.
Werner's RBI single gave the Wildcats a 9-0 lead, and with Troxler on third base, Burger dug in, and drove it deep enough to left for an RBI. Jasper rushed out of the dugout before Troxler officially touched home, then mobbed him as the Wildcats had won.
"That winning run - that meant everything to me," Troxler said. "Just one of my best friends, Caleb Burger, got that winning hit. It was a great feeling."
"It meant a lot for me personally, but for the team, it meant a lot more," Burger said.
That's because the Wildcats are trying to get back to state this year, and are hoping for a state championship to add to two single-class crowns, three championships in Class 3A and four runner-up finishes in Class 3A.
The most recent runner-up finish came in 2017, which was also the last time before Monday that Jasper had won a sectional championship.
"I was just really proud of the kids," Jasper coach Terry Gobert said. "They couldn't have gotten a tougher road than we had - we really couldn't have. We beat the next three best teams in it (Castle, Evansville North, Evansville Central), and this was a tough assignment. I'm really proud, and we couldn't have done it without our depth."
The Wildcats have relied a lot on senior Grant Stratton and junior Connor Foley on the mound this year, but on Monday, they gave the ball to senior Jobe Luebbehusen to assist in bringing a sectional championship back to Jasper. Luebbehusen had a 1-2-3 top of the first, and though the Bears pushed with runners at the corners in the top of the second and bases loaded in the top of the third, Luebbehusen and the Wildcats did not break, and they kept Central scoreless.
Jasper got out of the top of the third when senior Eli Hopf caught a flyball that he threw to junior shortstop Ben Henke covering second base for an 8-6 double play to preserve the team's 1-0 lead.
"I threw a curveball, and I guess I hung it a little bit," Luebbehusen said. "I thought it was pretty good, but I guess it wasn't good."
Yet, the Wildcats made it happen in the bottom of the third when they took a 1-0 lead and expanded it to a 7-0 lead, and Luebbehusen didn't encounter any more hiccups the remainder of the night.
"I felt way better," he said. "I felt, 'Hey, this is my game.' I settled in a little bit and I threw pretty good after that."
"He's had some good starts, and he's a one-year player because of COVID," Gobert said of Luebbehusen. "And he's done a lot (to) make himself better, and we just wanted the ball in his hands. We felt like he earned it."
Jasper will now have the week to prepare for Saturday's Regional 4 Tournament at Ruxer Field. The Wildcats are scheduled to play Floyd Central in the opener.
Gobert knows the Highlanders are good, and the Wildcats will talk about what is needed. They will seek to do all they can.
"I really think one of our strengths of the program is we get better each week if we (can) advance," he said. "We don't believe in just backing off. We don't take batting practice and try to keep them happy. We get after it, work, grind it (and) try to get better."