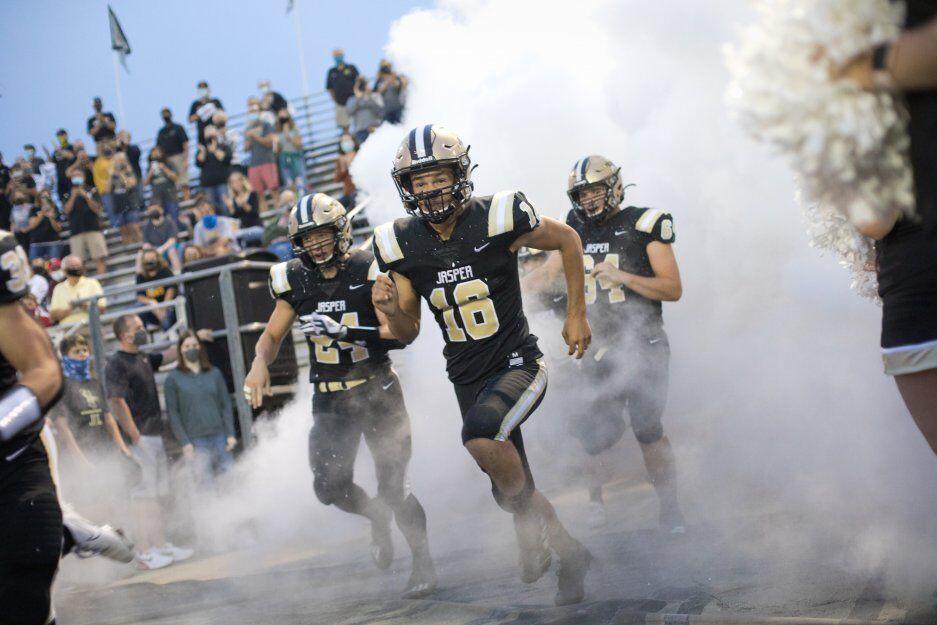 Here are the local games for our teams on Friday.
Wildcats at Wildcats
Teams: Evansville Mater Dei (1-3) at Jasper (4-0), Jerry Brewer Alumni Stadium, 7:30 p.m.
Last Meeting: Jasper won in the sectional semifinal, 27-19, Oct. 27, 1995
1. Jasper was without senior back Lance Dawkins in the Sept. 11 45-0 rout of Evansville Bosse. Coach Tony Lewis told the Herald after the win that he had pulled his groin Sept. 8, and wanted to take it easy on him against the Bulldogs to get him healthy. Lewis said on Monday that he wants to see how Dawkins does this week, but the plan is for him to play.
2. This is the first meeting of the 21st Century between the two Wildcat teams. Jasper got the better of Mater Dei during the 1995 state runner up season that saw them go 13-0 on the way to state. Lewis notes that Mater Dei could easily be 3-1, with a close 6-3 loss to Castle Aug. 28, and a 13-10 loss to Evansville Memorial on Sept. 11.
3. Mater Dei has a connection of sophomore quarterback Mason Wunderlich and senior wideout Ryan Taylor. Lewis hailed Wunderlich as accurate, and said he does a good job throwing the football. He looks to pressure Wunderlich in the pocket and keep him there. Jasper will mix up its coverages against Taylor, and hopes to confuse Wunderlich on Friday.
4. "They're well-coached," Lewis said. "Coach (Mike) Goebel, in my opinion, is one of the better coaches, has been for a number of years in the SIAC…Year in and year out, he gets more out of his talent level than any other coach in the SIAC, in my opinion. They're well-coached, they're disciplined and they'll be physical."
Titans at Raiders
Teams: Gibson Southern (2-2) at Southridge (4-0), 7:30 p.m., Raider Field
Series: Southridge leads, 20-14
Last Meeting: Gibson Southern won, 22-21, Oct. 18, 2019
1. Southridge has demonstrated this season an ability to have multiple 100-yard rushers in its games, which coach Scott Buening said starts with the offensive line. He feels the line has done a good job upfront, and so have the backs. Buening is hoping the Raiders will continue working on their edge blocking, though.
2. Not once, not even during the 2017 state championship season, has Southridge beaten Gibson Southern since Buening's first season with the Raiders back in 2013. They last defeated the Titans in 2012. Buening said it isn't something Southridge gets wrapped up in, but it does want to beat Gibson Southern, and loves the challenge of playing them.
3. The Raiders will be getting a look at Titans junior quarterback Brady Allen, who is committed to continue his career at Purdue University. Buening isn't sure if the Raiders will be able to stop him. He described Allen as a mobile and accurate quarterback who is polished and puts the football where it needs to be, but he isn't all the Titans have.
4. "The head of the giant for them is their balance and their ability and willingness to do different things," Buening said. "They're willing to throw it, they're willing to run it. They put a lot of pressure on you. They don't have a lot of tendencies, don't have a lot of things that you can really key on and work on, and that's just what a good coaching staff does."
Wildcats at Rangers
Teams: Mount Vernon (Posey) (3-1) at Forest Park (3-1), 7:30 p.m.
Series: This is the first meeting between these two teams
1. Tecumseh gained more than 200 yards of offense Sept. 11 against Forest Park. The Braves actually had more rushing yards than the Rangers did, 157-142. Despite this, Forest Park shut out Tecumseh, 13-0. Rangers coach Ross Fuhs hailed the Rangers as having a bend-but-don't-break defense in the game. They gave up some big plays, but kept pounding.
2. Forest Park's showed its offense could be effective both through the air and on the ground, as the winning play came from junior quarterback Cooper Uebelhor to senior fullback Jake Begle on a 54-yard score. Senior Daniel Eckert ran for 77 yards on eight carries and a touchdown. Fuhs praised Begle as having good hands, and he can open things up with people keying in on his running.
3. The Wildcats have multiple options they can use out of their backfield. Junior Luke Hoehn can be a dual-threat quarterback. Freshman Nicot Burnett was the team's leading rusher Aug. 28 in a 41-0 win against South Spencer, while junior Brady Hook has had multiple rushing touchdown performances on more than one occasion this year.
4. "They're very dimensional," Fuhs said. "They have a lot of different guys that can hurt you a lot of different ways. I know it's kind of cliche, we talk about it every week, but it just comes down to discipline. We have to do our job, we have to understand what we want to do and understand the all different formations they'll give us."
Patriots at Vikings
Teams: Heritage Hills (1-3) at North Posey (2-2), 8:00 p.m.
Series: Heritage Hills leads, 37-11
Last Meeting: Heritage Hills defeated North Posey, 49-0, Sept. 20, 2019
1. Heritage Hills got in the win column Sept. 11 against South Spencer with a 36-7 win against South Spencer. Patriots coach Todd Wilkerson said the team was just glad to get a win. The Pats talked prior to the game that they were tired of losing, and he thought his players played well and made some plays against the Rebels.
2. Wilkerson is continuing to emphasize the importance of the secondary against the good quarterbacks they'll be seeing in the near future. Vikings junior quarterback Harold Bender completed 69 percent of his passes in the 35-17 Sept. 11 loss at Tell City. Wilkerson thinks the defensive line can put pressure on Bender, noting that they may lack in size, but have speed.
3. Bender has different options he can look to at receiver. Dalton Reidford and Devin Lintzenich had each had at least 79 yards receiving against the Marksmen. Wilkerson said the Pats will likely mix its coverage defense up, since the best defense to him doesn't sit in one single defense. Brady Reidford rushed for 144 yards Aug. 28 against Princeton.
4. "Our defense is set up to where we're taking care of all our gaps and we want to get a lot of guys to the football," Wilkerson said. "I think we've been tackling better, we can always improve, but I think for us, we're going to have to work on the passing game, but we always want to shut down the running game first. So, our defense will be set up to make sure we're solid in the run game."