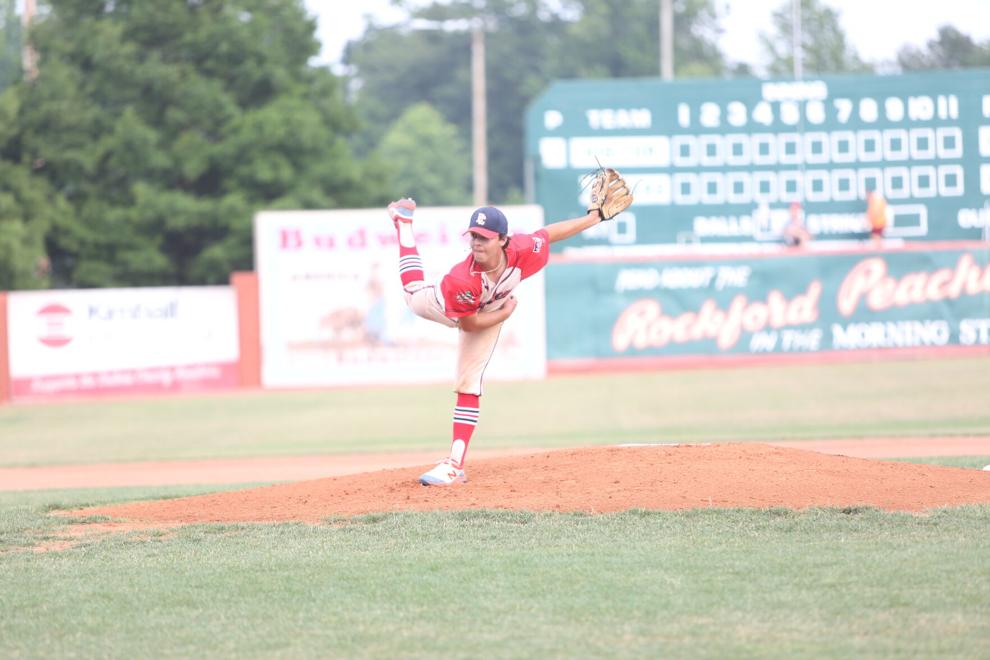 By COREY STOLZENBACH
HUNTINGBURG - Things started off well enough for the Dubois County Bombers Friday night against the Muhlenberg County Stallions, but they got into a tailspin after a couple of innings, and never recovered in their 9-3 loss. It was the team's third straight defeat.
"We're definitely not pressing the panic button right now," said coach Travis LaMar. "It's just a few games here where kind of things hadn't gone our way. I'm still fully confident in what we have, in their abilities. I think it's just a matter of time before we get back on a roll."
The Bombers (14-5) held a 1-0 lead going into the top half of the third on the Stallions. They grabbed this lead in the bottom of the first when Guy Lipscomb bunted for a single, and stole both second and third base. That paved the way for Mason "Butter" Landers to single him in for the team's first lead since their 8-3 win Tuesday in Owensboro.
However, the lead didn't last for long, as the Stallions rode a one-out rally to take the lead from the Bombers. Five straight batters reached for Muhlenberg County by way of a walk, three singles and a double.
Nick Lucido tied it for the Stallions when he singled in Zach Chowansky, and the lead came when Bentley Boekhout's two-run double brought in Lucido and also Mason Lundgrin, but Muhlenberg County wasn't done there.
The Stallions put runners on first and second with nobody out in the top of the fourth - loading the bases one with out. A couple more scored, then Lundgrin's ground ball got through Landers' playing over at first base. Both Chowansky and Colin Cornwell scored to put the Bombers in a 7-1 deficit.
LaMar spoke to the Herald after Thursday's loss about the importance of getting the team in the right mindset before this game.
"I think we tried to make a more concerted effort to get them here, and be a little more business-like from the get-go," he said. "I think we obviously didn't quite get there tonight, but I think we're just going to try to take the steps to keep them working and wanting to get here and take care of business."
Meanwhile, the Bombers could not make the big inning happen on Friday. Tucker Schank led off the bottom of the third with a single, but the Southridge grad ended the inning stranded at third.
Adam Euler led off the bottom of the fifth with a single, and he later advanced to third in the inning. Lipscomb reached on a fielder's choice with two outs, and stole second to put two runners in scoring position. However, Stallions hurler Dalton Cameron froze Brett Pfaadt for strike three, preventing the Bombers from pulling any closer.
They had to wait until the bottom of the sixth to do so, when Euler's two-out, line drive single brought in Blayden McMahel for the team's first run since the opening frame. This was the only run they could muster in the sixth, however.
The Stallions wasted no time to get that run back and add another on an RBI sacrifice fly and also a single for the Bombers to look at a 9-2 deficit. They put together another run when Pfaadt singled in Lipscomb. However, they left a couple of runners on - again failing to rally for something big.
"We did a lot of things right, but it was just one of those days where a lot of the balls they hit found holes, a lot of the ones we hit didn't find holes," LaMar said.
LaMar feels his team is still in a good place. There might not be a lot of energy, but he believes the focus and the intent are still there. He knows it can be a grind at this point in the season, so the team will find it within themselves to dig down deep and make that difference.
They are scheduled to be back in action Saturday night against the Hoptown Hoppers.
"I expect them to really bounce back pretty well," he said. "Hoptown's a good team, and we know that we're going to have to put our best foot forward. We're going to have to play a clean game, we're going to have to be good from the beginning to the end. It's kind one of those where you hope that when they show up, these understand that - and they're going to come out ready to go."