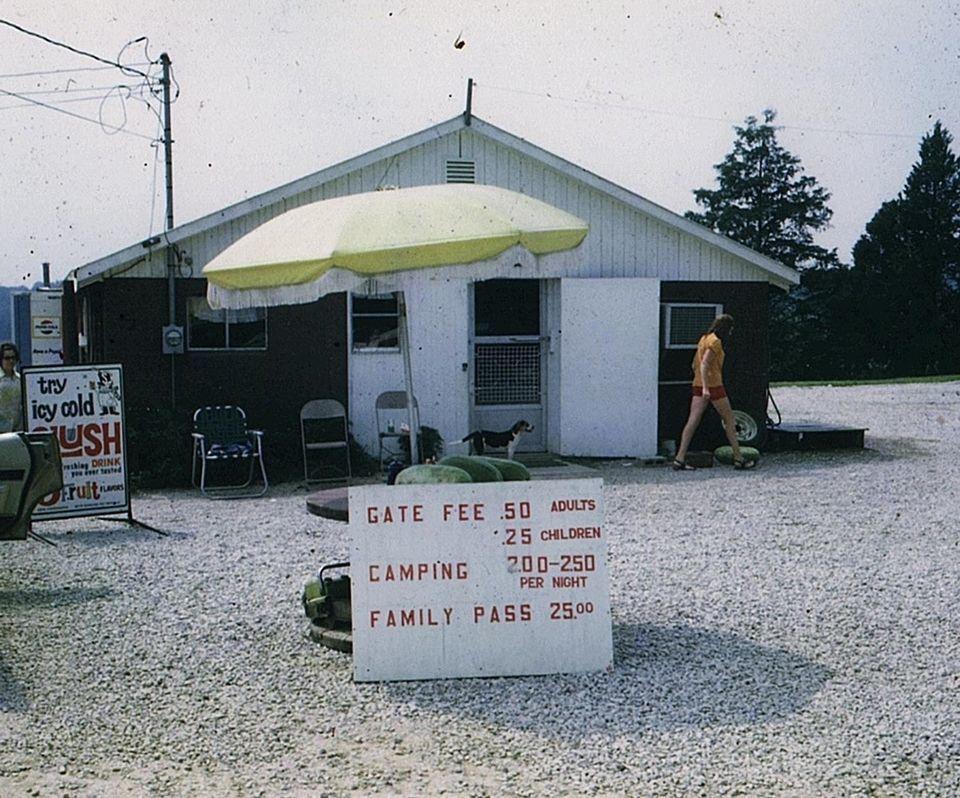 By CHRISTINE STEPHENSON
SELVIN — When Jason Powers imagines Yellow Banks Lake this summer, he imagines it restored to its former glory, with swimming, camping and its old famous ice cream.
To people in Warrick County and beyond, Yellow Banks Lake is an institution. It's the backdrop to decades of memories made with family and friends.
"There's a lot of nostalgia there," Powers said. "When I came in there, I saw that it was just this amazing piece of property with an amazing history."
When Jim and Patsy Marshall founded and built up Yellow Banks Lake decades ago, it was just farmland. But Jim had a vision that it could become a place where people could flock to camp and swim all summer.
"It was a lot of work to build it from nothing, but [Jim] enjoyed seeing his dream come to life and bring tourism and business to our small community," Patsy said in a January press release. "Some of the most unique aspects of it were that it was out in the country and was very family-oriented, which was inviting to those who wanted to escape from town."
Jim recently passed away, and Patsy is unable to run the place alone. Yellow Banks Lake hasn't been fully up and running like it used to be for years now.
Powers lives in Denver but has family in the area and spent much of his youth in Southern Indiana. He bought a cabin at Yellow Banks Lake before he knew of the area's situation, and the opportunity to revamp the place fell into his lap, he said.
As an entrepreneur, Powers has owned several businesses and gained experience in real estate. He's had jobs helping distressed homeowners and had a nonprofit that worked with tribal villages in India.
"I think this was God bringing together all of my skills towards one effort," he said of the Yellow Banks Lake revitalization.
Powers said he wants to restore Yellow Banks Lake to what it was so future generations can make the same memories. Nearly everyone he has talked to about Yellow Banks Lake has mentioned swimming, ice cream and the craft fair.
He wants to bring back those classic features, he said, but he envisions more than just that. He pictures Independence Day fireworks and October harvest festivals and other opportunities, too.
"I have no problem dreaming up dreams," Powers said. "I have no problem risking to see if we can make it happen."
Before he can work on the fun features, though, Powers needs to work with the community to get them what they need, he said. There are about 150 lots surrounding the lake, which means there are plenty of people living at the lake who likely need things such as road repairs and streamlined regulations, Powers said.
He doesn't want to rush in and start fixing things without input from the people who know the place best, though.
"I love that I'm able to pick up something that was so special to people and revive it," he said. "That means a lot to me, and I want to handle that delicately. I don't want to come in and just start doing my own thing."
Powers hopes that by Memorial Day weekend, Yellow Banks Lake will be completely restored and operating with whatever COVID-19 restrictions that may be needed at the time.
An RV site and rental cabins will be the first to open.
"We're just going to be chipping away at everything that needs to be done over the next six months," Powers said.