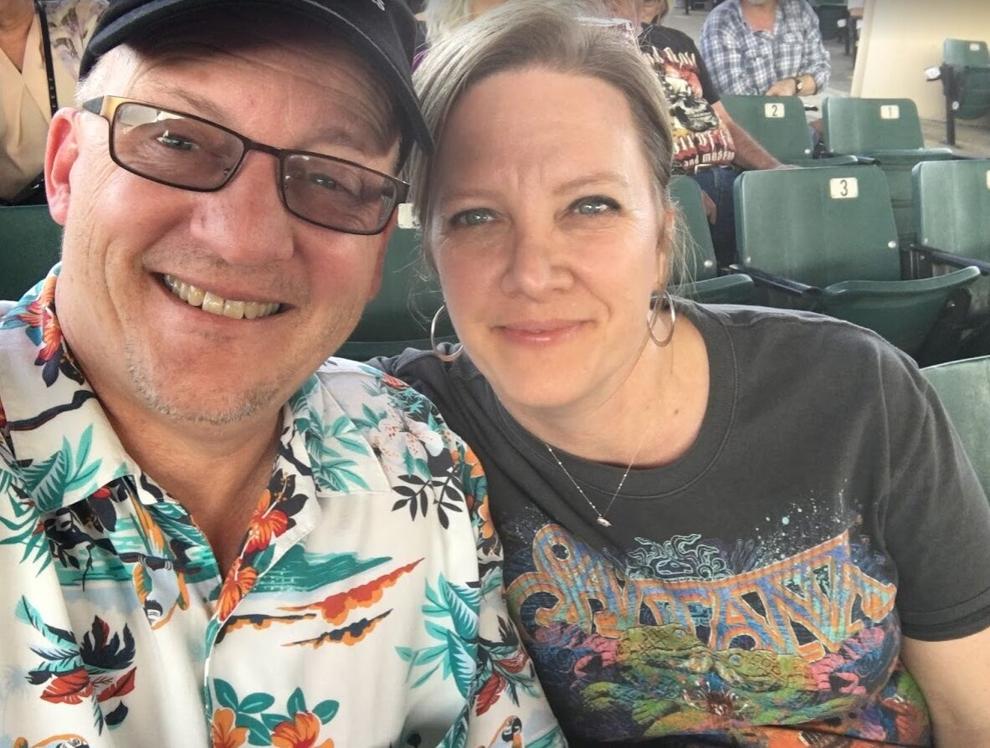 By SCOTT SAALMAN
Guest Columnist
A conversation with my imaginary grandson far, far in the very, very distant future:
"Grandpa, I like those colorful birds on your T-shirt."
"They're parrots."
"What do the words around the parrots spell?"
"Jimmy Buffett and the Coral Reefer Band."
"What's reefer?"
"Ask your grandmother."
"Who's Jimmy Buffett?"
"A musician I saw in concert six times."
"What's a concert?"
"Timmy, concerts were gatherings of people — sometimes tens of thousands simultaneously — who, as total strangers, bonded while sitting and standing elbow-to-elbow with one another and watched their favorite, famous, very rich musicians perform live music on stage."
"Silly grandpa, no one ever did that. They'd get COVID-19."
"This was pre-COVID-19, Timmy."
"Gee, you really are old, Grandpa."
"Before masks, social distancing and vaccinations, your grandma and grandpa's favorite social activity was attending concerts."
"Who did you see in concert?"
"My first concert was Jimmy Buffett and the Coral Reefer Band in 1983. Hence, the parrot T-shirt you like. I was a high school senior. The show was magical, life affirming, life-changing, a musical paradise. I couldn't believe I was under the same roof as my hero Jimmy Buffett. I had all his records."
"What are records?"
"It just means I'm old, Timmy."
"Is Jimmy Buffett the guy who sings the Cheeseburger song you always play?"
"'Cheeseburger in Paradise.' Very good, Timmy."
"And that song about fins to the left and fins to the right, the one when you make those silly hand fins on your head and Grandma thinks you have lost your mind?"
"Yes, 'Fins.' Very good, Timmy."
"And that song where he says 'Why don't we get drunk and...'"
"You weren't supposed to hear that one."
"Did he play 'Cheeseburger' in concert?"
"Yes, and the entire audience sang the chorus: 'I like mine with lettuce and tomato, Heinz 57 and French fried potatoes...'"
"Why are you crying, Grandpa?"
"Happy tears, Timmy. Happy tears. Little did I know that I would spend thousands of dollars on concerts during the decades after that."
"Gosh, you must really like concerts."
"I did, Timmy. Some of my most memorable moments occurred at concerts."
"Did my mom ever go to a concert?"
"Yes, Delaney loved concerts. She even saw Bob Dylan, Jackson Browne and Richard Thompson with me. I had tickets for her to see Jimmy Buffett for her first time, but it was the first summer of COVID-19, and the show had to be canceled. All live music around the world came to a sudden halt. Even the Rolling Stones canceled their summer tour — that's when I knew things were very serious."
"What was the first concert you and Grandma attended together?"
"Journey."
"They sing 'Don't Stop Believin'. "
"Timmy, you're very classic-rock smart for a 4-year-old. They also sing 'Lovin', Touchin', Squeezin'."
"What's that song about?"
"Ask your grandmother."
"You mean, it's like reefer?"
"Don't ever tell your mother we had this conversation."
"So, why did you take Grandma to see Journey?"
"Your grandma and I had been dating for only a few weeks at that time, and I was pondering taking our relationship to the next level. Journey was the litmus test to see if she was concert worthy. It would prove whether or not we could have long-term compatibility. That night, I tried to impress her by hiring a pedicab to carry us to the show."
"What's a pedicab?"
"It's like a horse and carriage, but with pedals."
"You're silly, Grandpa. Horses can't pedal."
"There was no horse, Timmy. A person pedaled us to the show."
"Grandpa, it would be a better story if a horse did the pedaling."
"OK, Timmy. A horse pedaled me and your grandma to the Journey concert."
"Giddy-up, Grandpa and Grandpa. Giddy-up to Journey. Then what?"
"Once in the stadium, to get away from the crowd, we moved to the very back row in the nose-bleed section where no one else was sitting. It was like having Journey to ourselves."
"How romantic."
"That's quite a statement for a 4-year-old."
"Grandpa, this is your imaginary conversation. You made me say that."
"Anyway, your grandma proved to be concert worthy. After the show, I did a very brave thing. I proposed—"
"Grandpa, too soon!"
"No, not that kind of proposal. I proposed that she see U2 with me, which was scheduled for two months later. She said yes. It bought me extra time with her since there was no way she would risk losing a free U2 ticket. After U2, I kept Ticketmaster busy, buying ticket after ticket for other concerts for us to attend. I locked her in. I fell in love with her at an outdoor concert when I saw her dance carefree and lovely while Modern English sang, 'I'll stop the world and melt with you...' Two years and countless concerts later, we found ourselves at an ELO concert on our honeymoon."
"Grandpa, do you think concerts will ever return?"
"My gut tells me there won't be concerts for a very long time, Timmy. At least not as we once knew them. We sure miss concerts, Timmy."
"Don't stop believin', Grandpa."
"Well said, Timmy."
"Grandpa, just one more question. Why didn't you and Grandma just ride the horse to the Journey concert instead of making it pedal you there?"
You can buy Scott Saalman's column collections on Amazon.