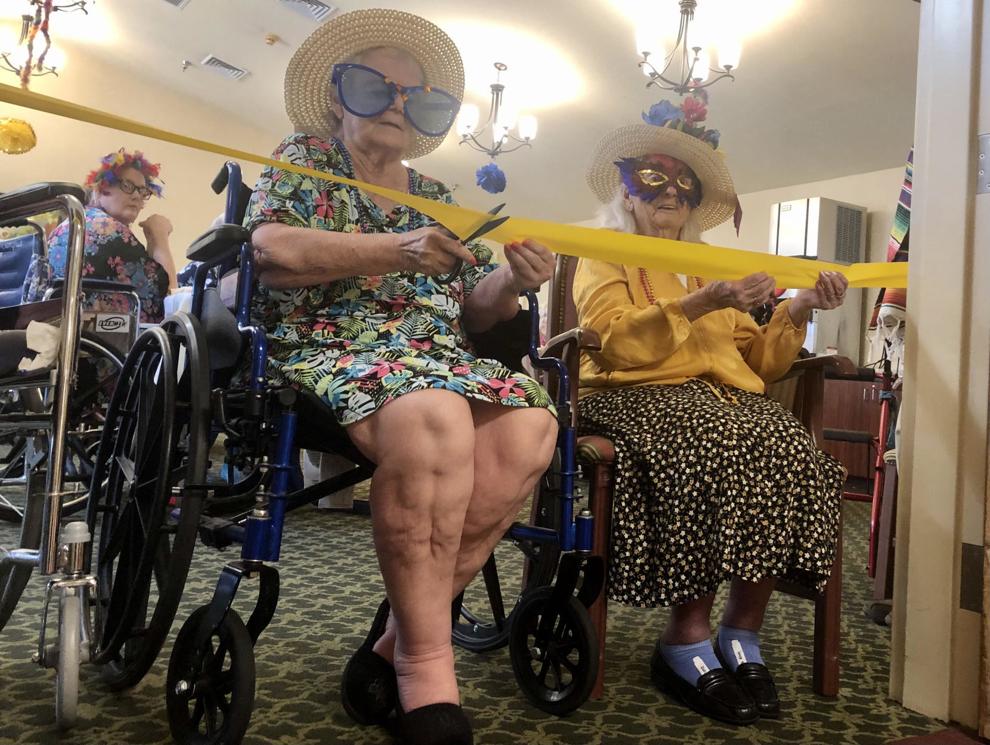 By CHRISTINE STEPHENSON
JASPER — Pam Kinkade's longtime partner, Warren, pushed her in her wheelchair down the St. Charles Health Campus hallway, admiring the flowers on her hat on their way to the dining hall.
Pam, one of St. Charles' longest-term residents, and Warren have been together for 36 years. For a long time, the only way they could see each other the past year was through the window.
It wasn't too long ago that they finally got to see each other in person again. Pam remembers hugging him extra tight.
"I think I almost cried," she said.
Thursday was the first day in nearly 15 months that St. Charles' communal dining hall was open for residents. More than a dozen residents gathered in the spacious room to share a meal together for the first time since the COVID-19 pandemic began, donned in flowers, beaded necklaces and other decorations for a South America-themed dinner.
Nursing homes and senior living facilities can already be a lonely place, let alone during a pandemic. Many facilities across the country have enforced the tightest COVID-19 restrictions, as they house some of the most vulnerable people. Often, residents have been placed on complete lockdown for weeks or months, and even as the country continues to recover and reopen, many facilities are still hesitant to return to pre-pandemic habits.
St. Charles' Executive Director Jon Howard recalled how tough the past year had been on the residents. The staff was always supportive and spent plenty of one-on-one time with them, and family and friends still showed support from the outside, but ultimately, they still spent a lot of time alone — more than anyone should ever have to, he said.
"It's tough to even have to quarantine for two weeks," Howard said. "So imagine going in your room, closing the door and staying in there for a year."
Resident Rose Bauernfiend sat in the hall waiting for dinner, admiring the decorations and bustling staff members. It was a good excuse to be able to dress up again, she said.
Earlier in the day, Rose's youngest son had come to visit with her. He's not the type to wave through a window, so they just talked over the phone for a while. Hearing a loved one's voice through the phone, although nice, isn't the same as being able to reach out and grab their hand.
"It always peps me up when my son comes," she said.
Throughout the pandemic, the staff has set up FaceTimes and Zoom meetings with the residents and their families. They've watched live-streams of weddings and music performances from grandchildren.
They've organized dress up days and socially-distanced activities in the hallways. They've spent extra one-on-one time with residents. They've even had cows come to the campus so the residents could watch them through the windows.
Around Christmastime, members of the community wrote positive notes on lit-up bags for the residents for an activity called "Light Our Halls with Hope."
"They've got to have some reason to get up in the morning," Community Services Director Bailey Sherman said.
Though the activities weren't just for the residents, Sherman said. The staff needed it, too. They worked extra long hours and sometimes ended up quarantining from their own families.
In a way, it was nice to spend so much time with the residents, she said, because they tended to have more positive outlooks than most. They were always kind to the staff, even if they were struggling in their own lives.
"They've already been through so much, so it's like they knew exactly what to say," she said. "We needed that."
As dinner was being prepared Thursday, Sherman looked over at 104-year-old resident Giulia Alvey sitting in a feathered masquerade eye mask. She thought about how she's lived through two pandemics now.
"How old are you now?" Sherman asked.
"I'm 76," she answered, laughing.
"What's your secret?"
Giulia thought for a second. She said she didn't know.
"Maybe cornbread and cabbage," she later said.
Sherman asked what Giulia would like to do tonight during the celebration.
"I'd like to have a dance," she said.