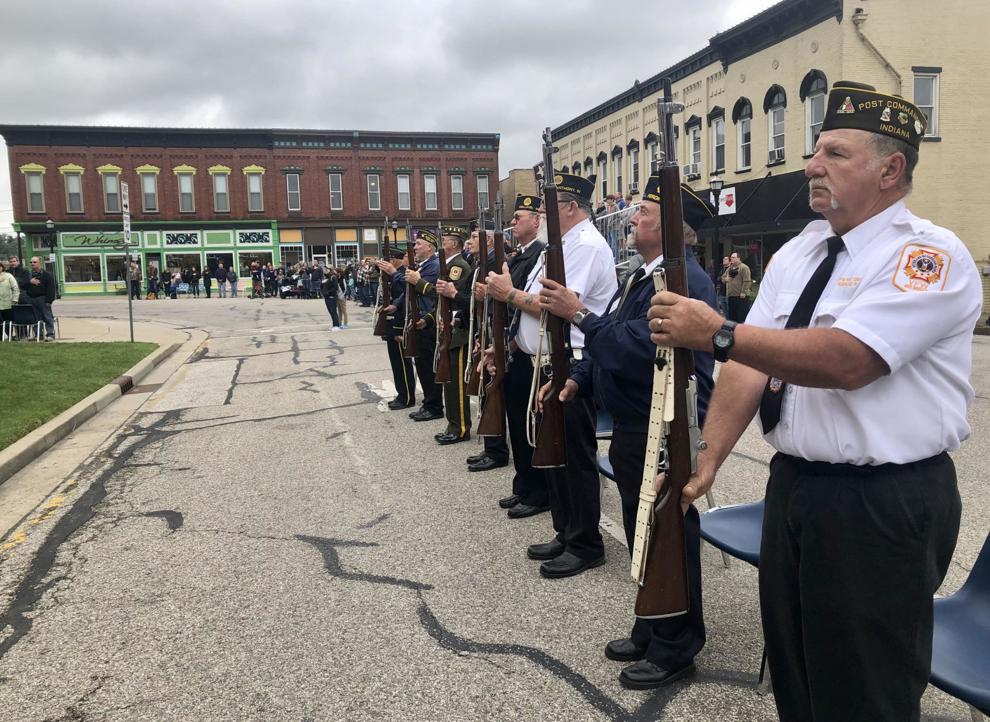 By CHRISTINE STEPHENSON
JASPER — Despite the unseasonably chilly weather, dozens of spectators and families gathered on the Courthouse Square Saturday in Jasper to honor the military men and women who have risked and given their lives to protect our country.
The annual Memorial Day service, hosted by the Dubois County Veterans Council, honored all service members, but particularly those who have died or are considered missing in action or prisoners of war.
Although the event itself was solemn, it was bookended by smiles and laughter. It was one of the first larger events in Dubois County to return after being canceled by the pandemic last year.
Not only was the Memorial Day service canceled in 2020, but so were Veterans Day events and the annual Buddy Poppy fundraiser that supports local veterans.
The county VFWs and American Legions often closed down during COVID-19 spikes and couldn't gather at all.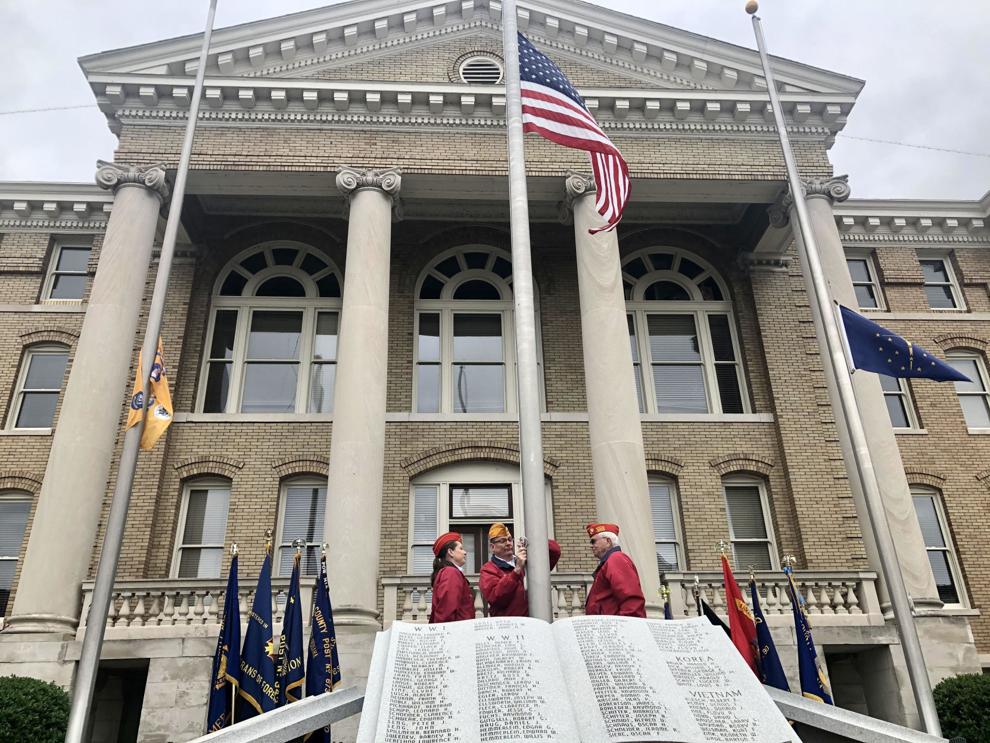 Donald D. Peek Jr., former state commander of the Disabled American Veterans of Indiana, spoke to the crowd about how even now, Memorial Day doesn't look quite the same as it has in past years.
"In many cases, our backyard barbecues and get-togethers are replaced by video chats and other marvels of modern technology," he said. "Still, we hold onto some semblance of what life was and what we will return to, and the memories and emotions that this day brings are always the same."
Peek Jr. asked the crowd to remember all military men and women who have died but also to pay tribute to all who have served, whether they volunteered or were drafted, served during peacetime or only for a short period or even if they never expected to wear a uniform. He also asked everyone to remember the loved ones of those who have died, for whom Memorial Day is a painful reminder of what they've lost.
"Too many mothers, fathers, siblings and children feel the immense weight of seeing an empty chair year-round," he said. "For them, Memorial Day brings to the forefront what is always operating in the background of their lives."
Steve Bartels from the American Legion Riders led a ceremony honoring those considered missing in action or prisoners of war, including those from all around the country but especially the 1,700 from Indiana.
He explained a display to the crowd, which included a round table to represent the everlasting concern for the missing men and women, a lemon slice to represent the tears of their loved ones and a rose to represent those who keep the faith while waiting for their return.
Bartels spoke of a lieutenant who once said that, emotionally, all military members are POWS. It's the price one pays for serving their country.
This will be the 20th year the United States has been at war, Peek Jr. said, which is longer than any other American conflict that came before. About 2.7 million Americans have served in Iraq and Afghanistan, including many from Dubois County.
"Those who have returned are now our community members, neighbors and friends," he said. "In fact, if you take the time to learn about any veterans where you live, you will be floored by the stories of service and sacrifice known only to those who have witnessed it firsthand."
Although it is important to speak with and learn from veterans who have returned, he said, it is equally important to honor those who have died or cannot tell their stories themselves.
"It's up to us, not only to tell their stories," he said, "but to honor their service and memories."