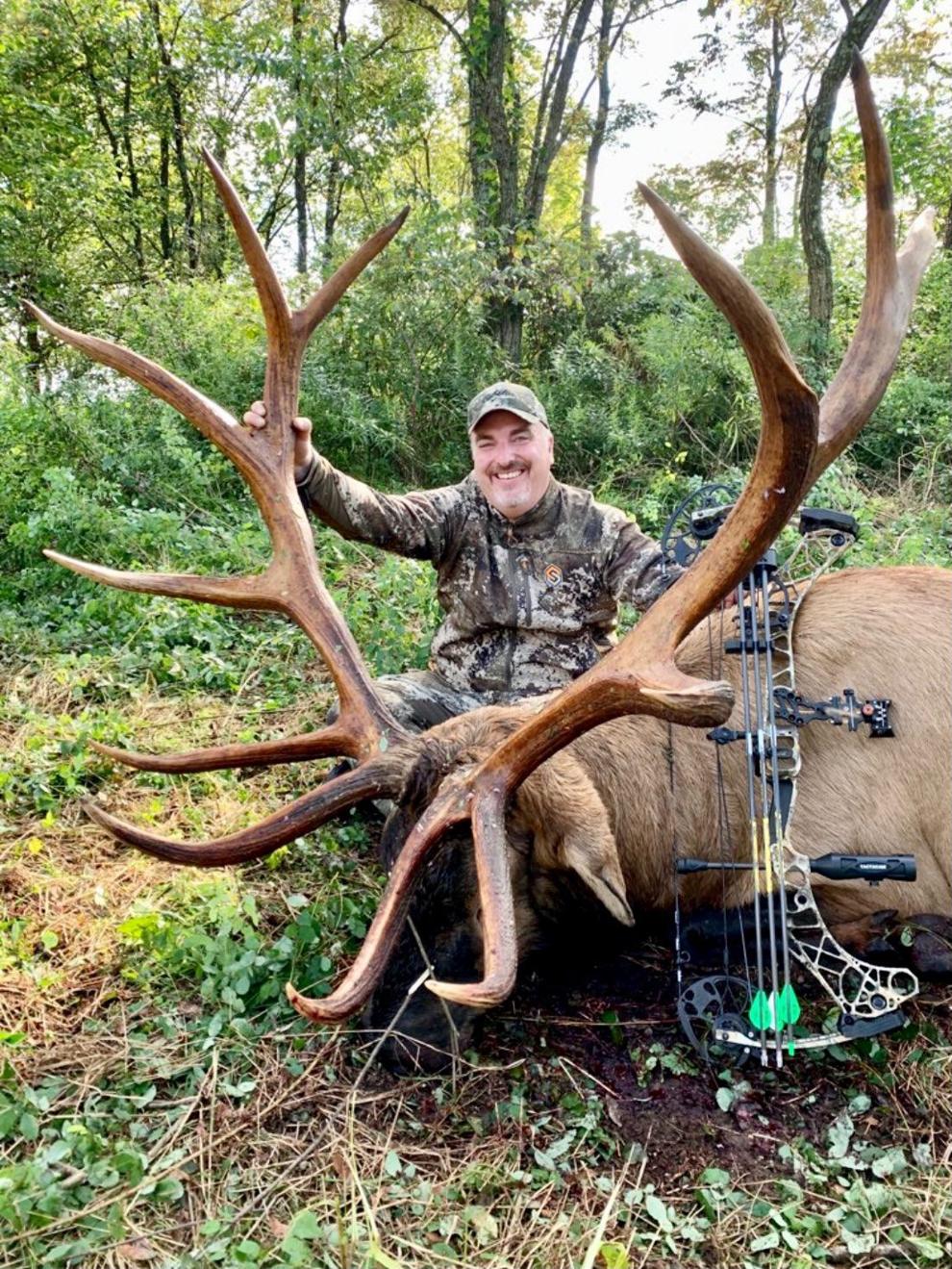 By JIMMY LAFAKIS
HUNTINGBURG — The sun beamed a bit brighter on that fateful September morning. Thick fog permeated throughout the eastern Kentucky woods. Massive elk roamed around the Appalachian terrain.
As hunter Rick Pflanz and hunting guide Hurley Combs took inventory of their surroundings, Pflanz realized something. He was in the midst of the best hunting environment of his lifetime.
"You're seriously like, 'What the heck?'," Pflanz said. " 'Are we in Kentucky, or did we somehow end up time-warped out in Montana somewhere? It was awesome. It was incredible. We were probably within 150 yards of these elk. We were just sitting up and watching."
The breathtaking environment helped Pflanz capitalize on his rare opportunity. Pflanz harvested a Kentucky state archery record for a typical elk on the first official day of hunting season — no small feat, to be sure.
An official Boone and Crockett measurer determined the elk was 350 4/8" after the requisite 60-day drying period. The elk was estimated to be between eight and nine years old.
Although Pflanz holds the record, he believes it will be broken one day. When asked about his top harvest, he remained modest.
"It was all luck," Pflanz said with a chuckle. "But, I'd rather be lucky any day."
Pflanz enjoys hunting in Indiana, where deer and turkey comprise the majority of the available game. Eastern Kentucky opened a new world for Pflanz — a world filled with more elk, deer, bears and turkey than he could have ever imagined.
Pflanz likened that part of Kentucky to a less-commercialized version of Gatlinburg, Tennessee.
"It's like a different country," he said. "It's only three hours away from us. It's kind of cool."
In order to feel properly equipped for his trip to Kentucky, Pflanz needed to overcome some adversity. Three weeks before elk season began, his trusty bow broke.
He received some assistance from Bob Meadows at The Great Outdoors sporting goods store in Jasper. Meadows stayed late after work and helped Pflanz upgrade his arsenal. While he adjusted to his new Mathews bow, Pflanz fired straight shots from 60-70 yards away.
"My old bow would never have done that," he said. "When you go down there, you have equipment that you feel 100% confident in. I owe those guys at Great Outdoors. Bob is the man. I'll just tell you that."
The bow worked its magic, and word of the historic elk has spread far and wide. According to Pflanz, a Cabela's store in Louisville is interested in displaying the animal in its store.
"There's a lot of people in Kentucky who want to see it," he said. "That's going to be kind of cool when it's down there."
Pflanz etched his name into the history books, but he is certainly not done hunting. He spoke of his desire to travel to the Dakotas, which are well-known as hunting hot spots. In that part of the country, bison are some of the burliest bulls.
If Pflanz stays on a hot streak, he just might stake his claim in the Great Plains.