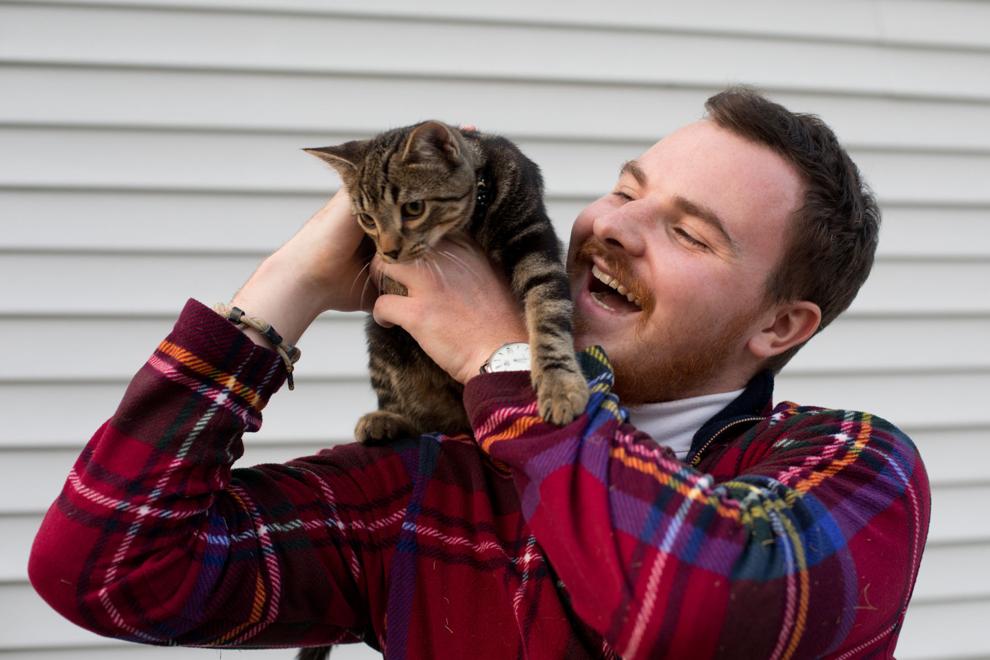 By ALLEN LAMAN
Pure love. Always happy to see you. Consistently positive.
When speaking about how the Dubois County Humane Society experienced a big boost in pet adoptions during the first few months of the COVID-19 pandemic, these are the words that Kelly Eckerle used to describe the light that furry friends can bring into their owners' lives.
"We're all going through a lot on so many levels," said Eckerle, who is the volunteer coordinator and office manager of the local organization. "And it's really helpful to have the love of an animal when you go through anything this challenging."
A total of 201 pets were adopted at Dubois County's humane society between March 6 — the date that the first case of COVID-19 was confirmed in Indiana — and Aug. 1.
One of them lives in my apartment.
Allen Laman and Tuesday
The tiny, marble tabby slinked into my tiny Jasper apartment when I needed him the most.
His black coat is dabbed with cream-colored splotches that match his always-curious eyes. His meows are so high-pitched that they sound like little squeaks. Sometimes, when he's curled up in my lap, I scratch his pint-sized chin and think about how his small life is such a big part of mine.
His name is Tuesday. And for the past three months, he's been by my side whenever I'm home.
Working remotely during the spring and early summer wasn't easy for me. I struggled through March, May, and April — my feelings of boredom slowly spiraling into loneliness. I'm an extroverted person, and I craved interaction beyond Zoom calls and FaceTimes.
I adopted a mantra in June to help me focus on controlling and achieving what I could in a socially distanced world. That mantra was "every day is a new day." Soon after, I made it my goal to convince my landlords to let me bring home a feline friend to help lift me up.
They had resisted the idea previously. But to my surprise, when I told them how I had been feeling down, they were immediately open to working toward a rental agreement that allowed me to get a cat.
We agreed to the terms on a Tuesday.
Since then, my life has been filled with more laughs, naps and head-scratching moments than ever before. Tuesday — Tues for short — is a nuzzler who, according to his Dubois County Humane Society description, plays hard and snuggles even harder.
He's also really smart. I've watched him pop off his own collar. I've pulled him down after he climbed up a window to claw at a spider. He often bolts into the kitchen when the fridge opens because he knows the good cat food might be coming out.
Sometimes at night, if Tues is in a wild mood and starts attacking my feet, I'll kick him out into the hallway and close the door. After a few minutes, I'll usually hear the doorknob jiggling, and I swear — he's going to learn how to turn that knob before his first birthday next spring.
I'm working at The Herald office again these days. When I get home from writing stories and interviewing sources, I open my door to find a striped kitten who is becoming a cat.
I'll walk back to my bed, and he'll jump on my chest, purring loudly, and bump his forehead into mine. Sometimes he'll lick my nose with his sandpapery tongue.
And I'll be reminded of how every day is a great day with Tuesday.
Brooke Hoffman and Ozzy
Wild.
In a word, that captures Ozzy, the black lab that Brooke Hoffman brought into her family's lives after a chance encounter left her wanting a canine of her own.
She works in the finance department at MasterBrand's corporate Office, and Ozzy has filled her work-from-home experience with love and excitement.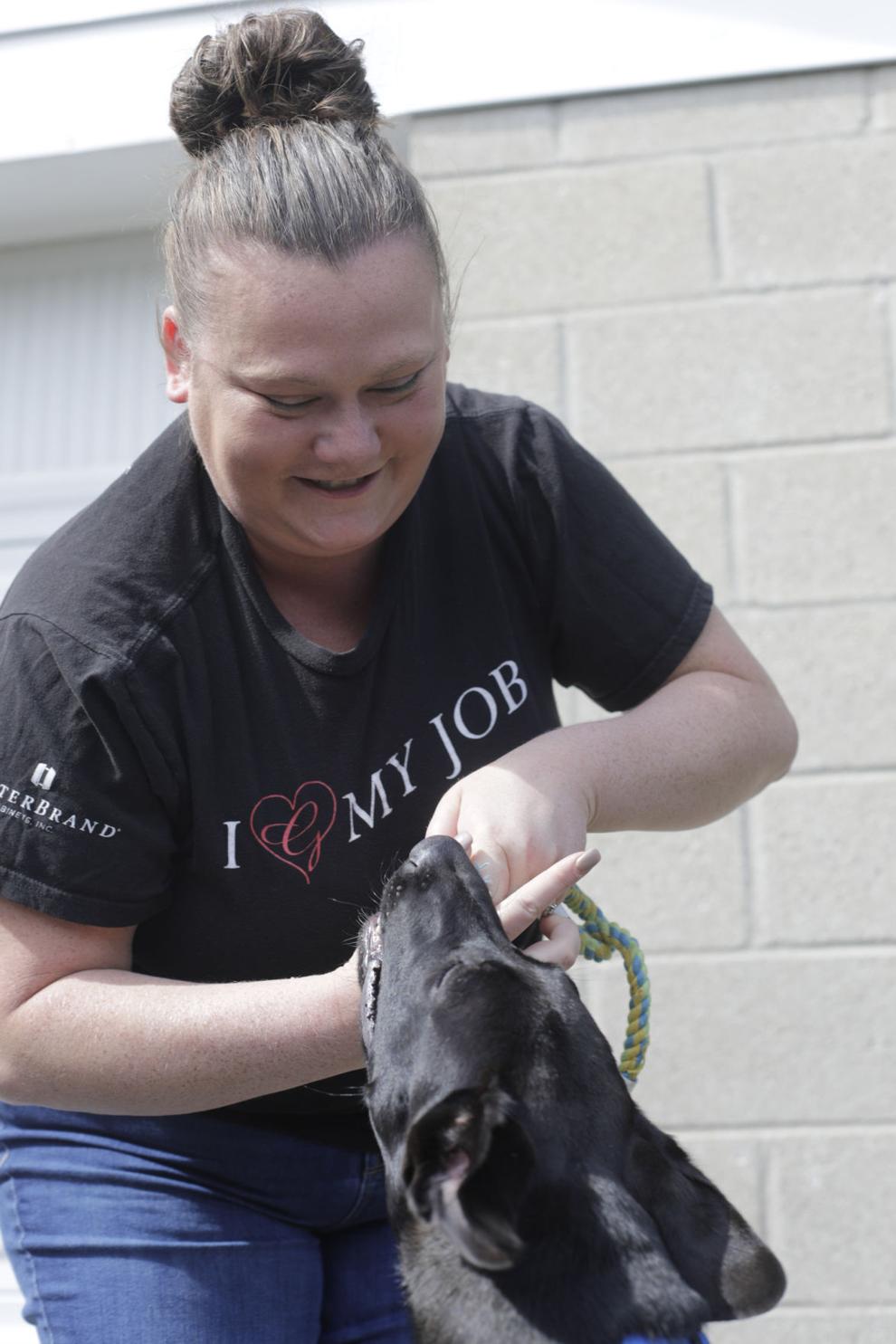 "In the beginning, I was kind of bummed," she recalled of the early days of the pandemic. "Because the kids were still out of school, but when they go back, I'm just going to be sitting here by myself, working on my laptop all day. So, having him here, I don't feel so lonely."
Ozzy — who is still just a baby — loves people and attention. Brooke describes her lovable, 5-month-old puppy as a "mommy's boy" who constantly shadows her inside her family's Ireland home. He even rides with her and her children, Parker and Karly, in the mornings when they're dropped off for the day at Jasper Elementary School.
"As soon as we start pulling into the new school parking lot out there, he'll start yelping and trying to talk," Brooke said. "Because he knows where we're at. He knows the kids are about to leave for the day."
Ozzy has become an important part of their lives. But it was actually another dog that led the Hoffmans to the Dubois County Humane Society.
One July night, a neighborhood dog broke loose and came into the Hoffmans' yard. Brooke didn't know who it belonged to, so she waited with it outside for hours — unwilling to leave it alone because of her close proximity to State Road 56.
She teared up when the Dubois County Sheriff's Office came to take it away (and ultimately reunite it with its owner). The next day, Brooke visited the local humane society's website and found her own canine companion.
"The first couple of days, of course, I was like the worried mom," Brooke recalled. "Like, 'Are you OK? What do you need?' But now it's like, 'Oh, go do your thing.'"
She feels loved when she is near him. Ozzy likes it when she gives him attention, and she likes giving it to him. She probably would have adopted him even if the COVID-19 pandemic wasn't affecting her daily life.
But having Ozzy with her each day still helps.
Brooke lives in Ireland with her husband, Nick, and their children.
The Dunlops and Pippa
It was all about the timing.
Preston, an adorable cross between a Jack Russell terrier and a Shih Tzu, had been a staple in Barry and Brittany Dunlops' lives for years. But the Jasper couple had long wanted to add another dog to their family.
The side effects of living during a pandemic, combined with the Dunlops moving into their new home on the city's southeast side in March, signaled to them that it was time for their household to grow.
Brittany is the CEO of an online company named Clopet Media and works from home. Barry co-owns Brew in Jasper, and he also found himself spending more time at home during the coronavirus pandemic.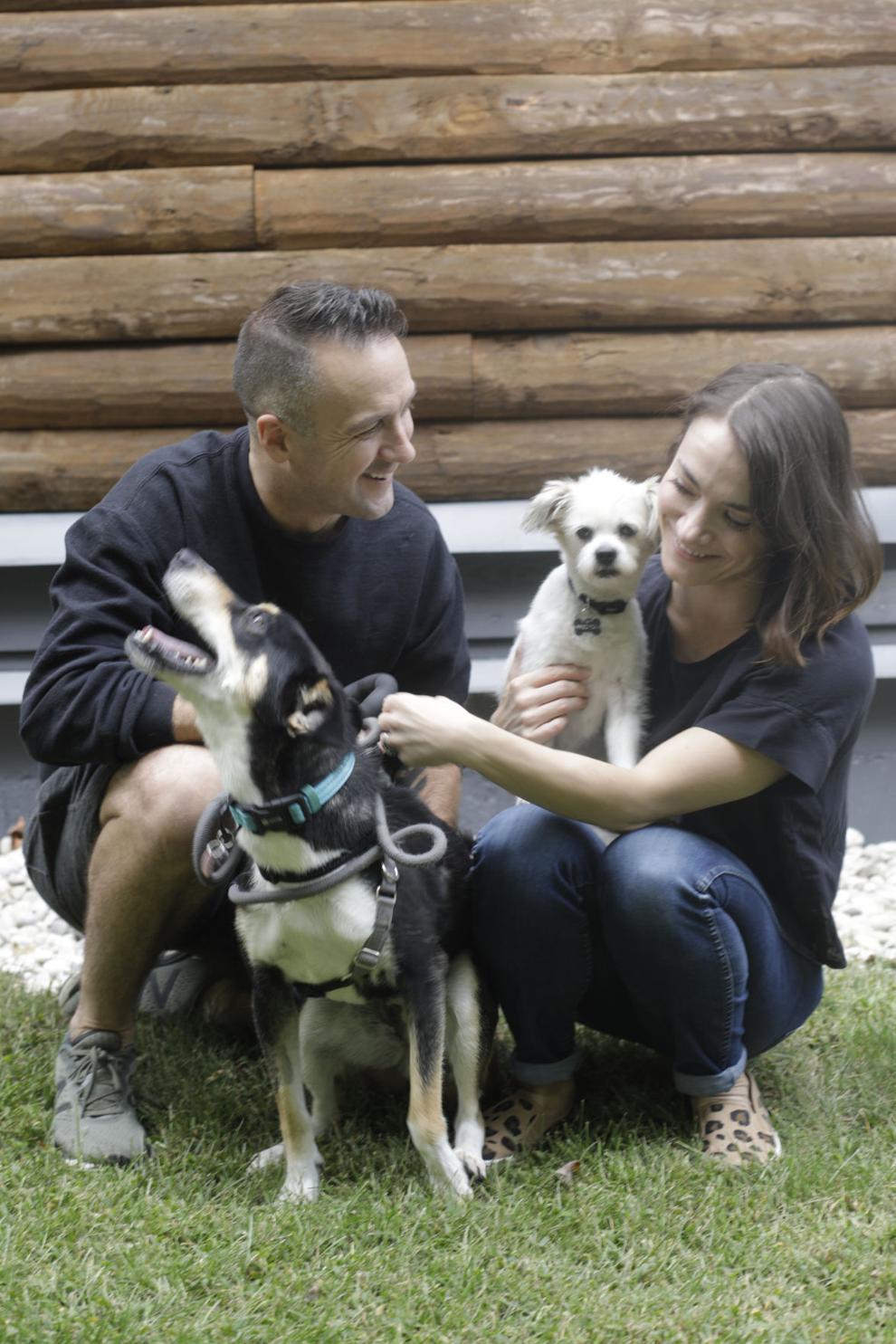 So, the Dunlops — Preston included — visited the local humane society to find their new dog in August. When Preston met his future sister, they instantly connected.
Though they haven't tested her DNA to be sure, the Dunlops believe their new, 15-month-old pup to be a husky-shepherd-beagle mix. She was stuck inside a cage for much of her life before coming into their lives, so when she arrived at their sprawling property, her energy overflowed.
"She definitely kind of breaks up that monotony of the never-ending, Groundhog Day effect or whatever," Brittany said of the jolt of life that Pippa brings to otherwise loop-like days that have become common in the COVID-19 era.
With her around, the Dunlops' lives are now happier and filled with more love. Barry described Pippa as a snuggler; she loves going on walks and runs and hops from window to window inside their cabin home while chasing glimpses of squirrels.
Brittany spoke of how Pippa has also taught her and Barry patience as they train and acclimate their new dog to her new home. Brittany finds joy in taking care of and nurturing both Pippa and Preston.
The unconditional love they give and the random smiles they provide have the power to brighten her headspace.
"If you're having a bad day, it's really hard to stay in a bad mood if you go snuggle with one of them," she said.