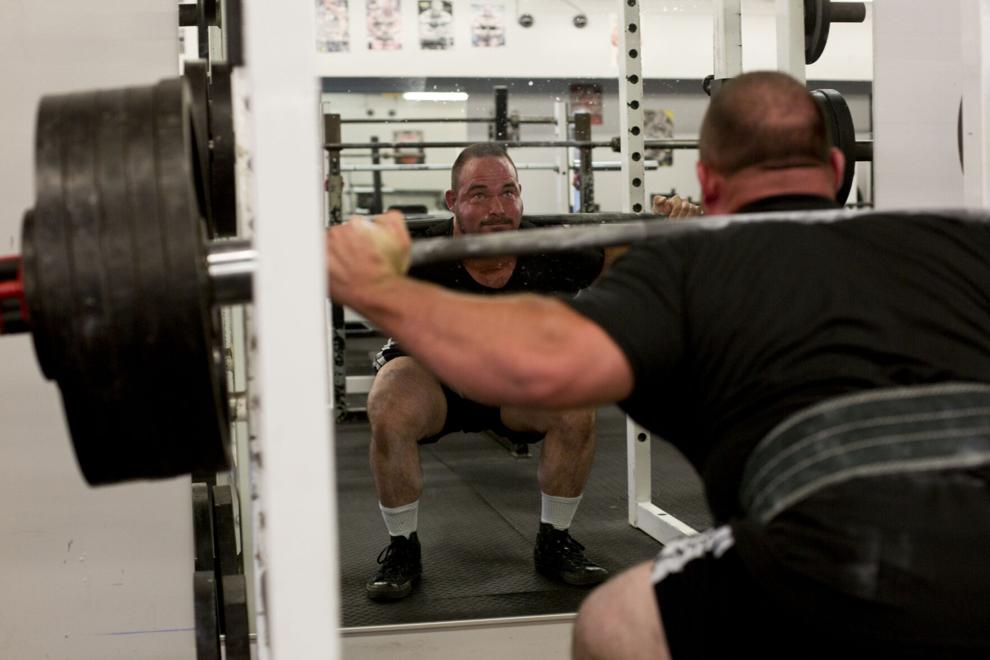 By BRENDAN PERKINS
Jason St. Clair remembers a day back in the dawn of his weightlifting career when he looked in the mirror and was embarrassed by his legs.
Used to be all arms, all the time whenever St. Clair hit the gym. His quad muscles were strong enough, but when St. Clair graded his calf muscles, he realized they were incongruous with the rest of his sturdy frame. Then came the affirmation for St. Clair one day back in high school when he was lifting weights with a buddy.
St. Clair could eclipse him on the benchpress, so when his buddy said he wanted to shoot for 315 in the squat, St. Clair expected he could exceed that, too. No sweat, right?
"I thought, 'Aw, I could out-squat him, too. Never did legs. He said, 'You may want to start out at 225 (pounds).' I got 225 once, but it was ridiculously hard, I almost collapsed," St. Clair recalled. "That's when I knew, 'Man, I need to start training my legs and get everything proportionate.'"
And... the new world record for the ADFPF!! 614 lbs!!!

Posted by Jason St Clair on Sunday, June 25, 2017
The ah-hah moment triggered a transition that's boosted the lifelong Birdseye resident to a record-breaking distinction in the squat. The 27-year-old powered his way to an American Drug-Free Powerlifting Federation world record in the squat last weekend during a national meet at Columbia, Missouri. Just like the motion of the squat exercise itself — down first, then up — St. Clair's initial dip about 10 years ago preceded a rise that's been grueling yet enriching.
"I started loving it," St. Clair said of the squat routine.
Where he once struggled at the 225 threshold, St. Clair unleashed a record squat of 614 pounds — roughly comparable to putting a vending machine on your shoulders then bending at the knees to a standing seated position and raising back up.
St. Clair's passed the old record by 2 1/2 pounds in the 100-kilogram (220-pound) division, and at 5-foot-5, he's always come built for power. Even before beginning weightlifting with gusto, he had more muscle than most even in elementary school where he always shined in the push-up or pull-up challenges in gym class. The 2008 Forest Park graduate didn't play organized sports in high school even though some tried to convince him to wrestle. He gravitated toward weightlifting instead, since he was crazy about pro wrestling and wanted a physique like the larger-than-life characters on TV.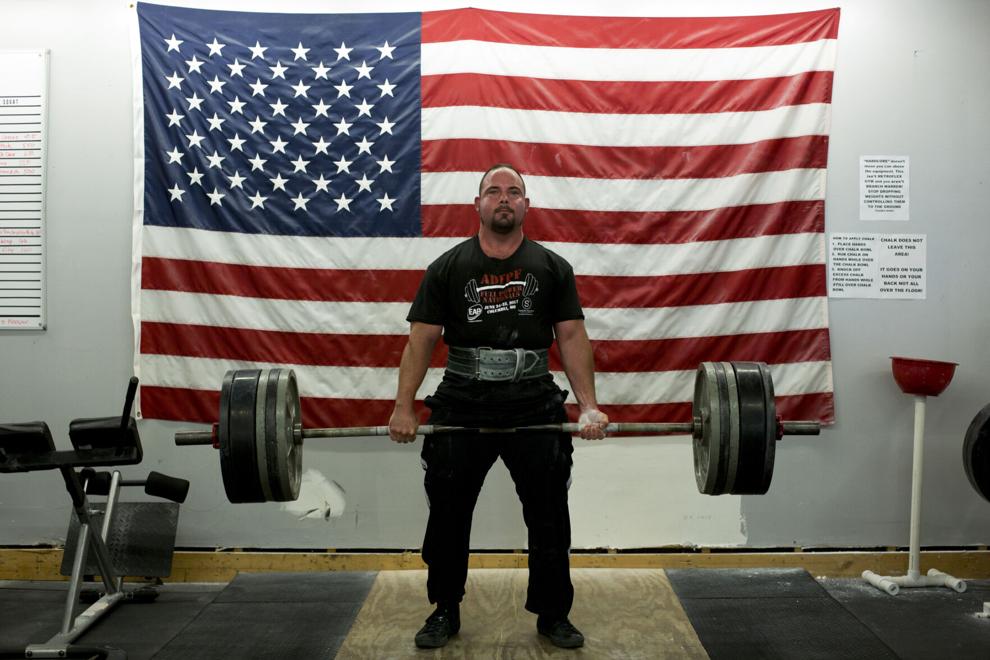 St. Clair generated the strength, and it's been all natural. That's the thrust of the ADFPF, whose mission statement is embedded in its name. It's a smaller circuit than some other weightlifting organizations, but its competitors are bound to an unequivocal requirement: No steroids allowed.
"I believe there were lifters like me that (were) like, 'Yeah, we want to compete and we want to win and we want to do well, but we want to go up against people that are legit but fair,'" St. Clair said. "There are a lot of organizations out there that are non-drug tested, and I've been to one (competition) that wasn't drug tested a couple years ago ... a lot of the competitors there, you can't stand a chance. They were so jacked up, you knew that they were on (steroids) — not judging them if that's their personal preference. As far as being competitive, it's just such a slim chance. I could go to some of those (competitions) and I could do well, but the chance is just so slim. Usually you'll get blown out of the water."
St. Clair, who delved into competitions for the first time in 2014, has done five ADFPF events and been drug-tested at three of them; he figures one of those occasions he didn't get tested since he'd been tested just a few weeks prior at another tournament.
The anti-doping demands fit into an overall climate that makes the ADFPF different than others, St. Clair said. He's encountered competitors with sour demeanors at other weightlifting circuits. The ADFPF vibe feels warmer and there's no room for outbursts of four-letter words, even in the heat of competition.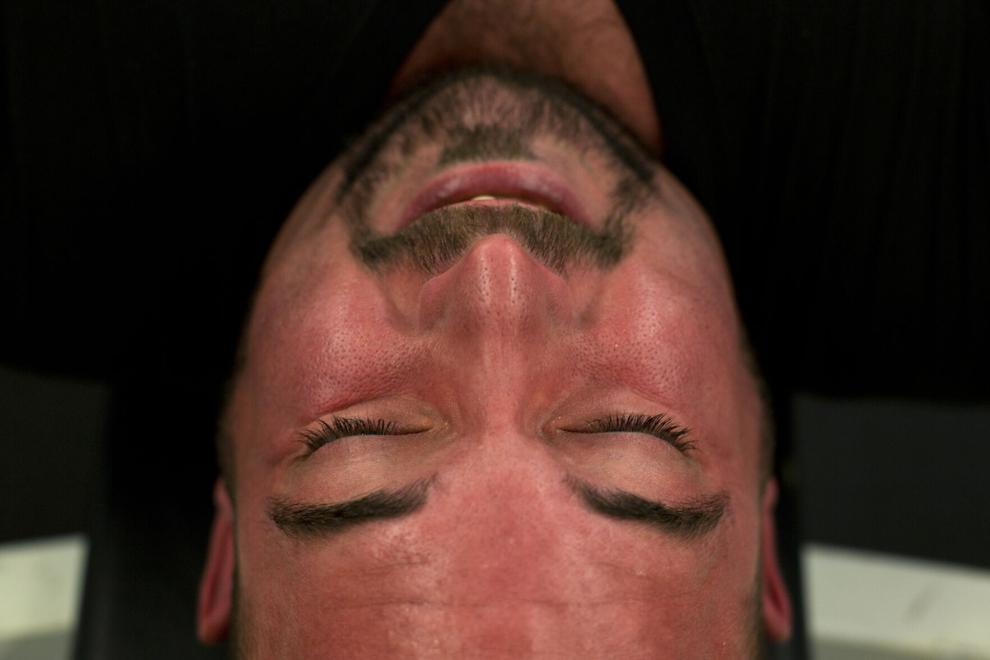 "The people I went up against, they were like, 'Good job on the squat,' shook my hand, they were happy for me," he said. "ADFPF just seems like not only are the people more kind and supportive, they're very down-to-earth, and what I like about them is they seem more moral-based. I think that it's more of a straight-up, old-school way of thinking and doing."
St. Clair made his mark beyond just the squat at the national meet; his combined lifts from all three disciplines (squat, benchpress, deadlift) also netted him first place in his 100-kilo division.
Next comes tackling other challenges. Including the everlasting struggle of finding a pair of jeans that fit.
If St. Clair tries buying a pair of cheap jeans for work at Versteel in Jasper, it's inevitably a losing battle thanks to the thickness of his thighs. He gets comments about his bulging quads and has earned the nickname "Quad-zilla" from some fellow lifters at the gym in Ferdinand where he trains.
St. Clair has hit 402 on the benchpress and 600 in the deadlift, and while the ADFPF records in those two are about 80 and 120 pounds off, respectively, they're still giving St. Clair something to chase. He can point to his legs as proof anything's possible.
"I guess it gives you that self-confidence that you do great things in life, and you can always better yourself," said St. Clair, pointing to the overlap he sees between the weight room and the goal-setting and motivation and even leadership required in a job career.
"I think being in the weight room by itself always gets people further in life just in that respect there, but hitting a world record, the horizons are even broader at this point, and hopefully down the road I'll also grow in other areas of my life as well, on top of powerlifting."