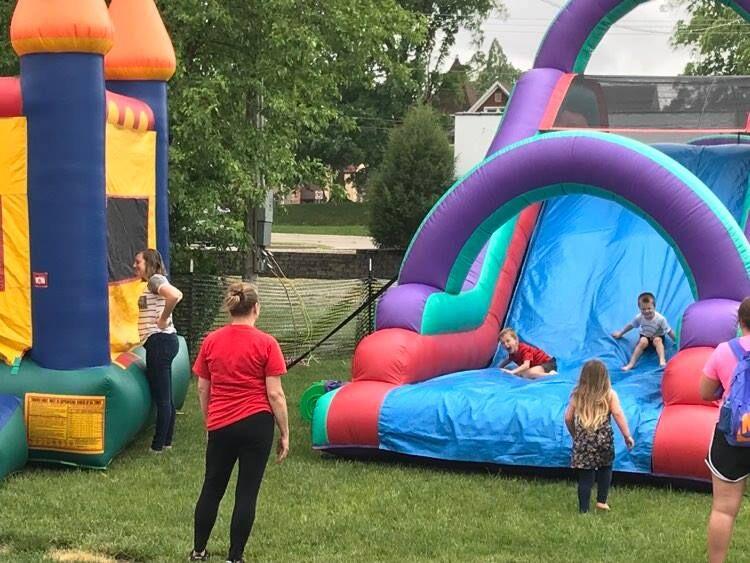 By CANDY NEAL
HUNTINGBURG — Getting outside to enjoy some good music, food and company will be easy this summer in Huntingburg.
Local events are being held again, to encourage people to have fun and enjoy the nice weather.
"We've basically hit the ground running," said Sarah Flamion of Destination Huntingburg. "From now until the end of the year, something is happening every month."
People and families attended the first 4th Fridays event on Friday at Market Street Park. Three bands performed on the German American Amphitheater Stage, playing jazz, rock and blues. There were also food and novelty trucks and beer service on site. The event runs from 5 p.m. to about 11 p.m.
This monthly event is set to be held on the fourth Friday of the month in May, June, July and August.
The Huntingburg Farmers Market will start on June 5 and run through Oct. 2. Vendors will be selling fresh produce and handmade goods under the market pavilion on Saturday mornings.
"This year, we will have a full market," Flamion said. "It's going to be sold out, which is awesome. We wanted to see all of our spaces get sold out."
Vendors will have fresh cut stemmed flowers, eggs, homemade noodles, baked goods, jellies, elderberry products, tie dye, microgreens and succulents, among others. "There will be a little bit of everything," Flamion said.
There will musical performances and additional activities on different Saturdays. On June 2, tractors from Hopf Equipment will be in the yard south of the pavilion for visitors to look at and touch. "Kids can come and climb in," Flamion said, "and push every button imaginable."
Lunch on Market will be held on the second Friday of June, July and August from 11 a.m. to 1 p.m. Musical entertainment will perform at Market Street Park, and tables for lunching will be available. "We're partnering with the downtown restaurants," Flamion said. "So get a bite to eat and sit outside."
The Garden Gate Festival will be held this summer, on July 17. It will include bands proving jazzy sounds on two stages as well as wineries and beweries from Southern Indiana providing tastings.
The annual 5K/10K Jazzed Up race will be held that morning. All the proceeds from the race will benefit the Make A Wish Foundation.
"Since this is held outside in an area that people can come and go and bring their own lawn chairs, we really do expect a large turnout," said Becky Hickman director of event host Dubois County Chamber of Commerce. "People are getting vaccinated and craving to get back to a little bit of normalcy."
Normally, the event is held in April. But organizers decided to postpone it to July, "which I think that was a good decision to make," Hickman said. "In 2022, it will go back to, to April."
Other events include the Dubois County Bombers starting their baseball season at League Stadium on Friday, June 4; the regular season runs to July 24, with playoffs starting afterward.
And the Latino Cultural Festival will be held Labor Day weekend, Sept. 3 and 4, at Huntingburg City Park.