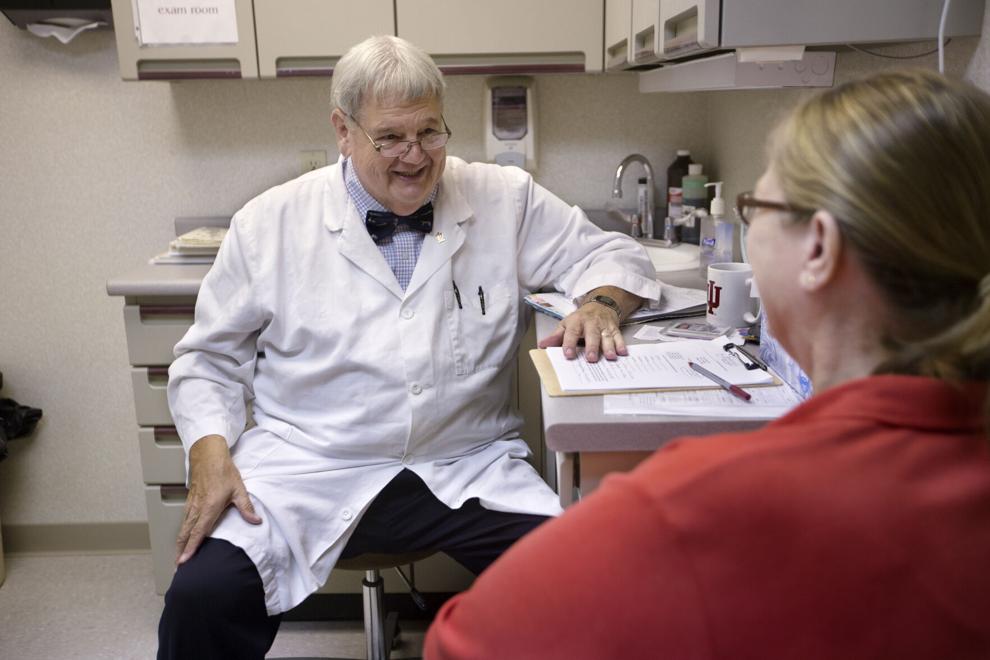 Story by Candy Neal
Photos by Brittney Lohmiller
Dr. Terry Brown has seen his last patient.
At age 65, the OB-GYN officially hung up his white coat on June 29, retiring from his practice of 36 years.
His last day was a full day of activity with a flurry of patients coming through back-to-back for their last appointment with him and saying their goodbyes, including Maureen Kern of Dale. Brown delivered Kern's second child 33 years ago.
"He is so friendly and kind," she said. "He tells you jokes to make you laugh and helps you to relax."
Mona Gunn of Mariah Hill agreed.
"He's a good guy," she said, "not that you would enjoy going to the gynecologist. But if you have to do it, he's a good one to have."
Gunn has been with Brown for 31 years and he delivered her three children. When she was pregnant with her third child, it had been 10 years after her second child was born.
"I had a little bit of trouble getting pregnant. And then I was a worrier," Gunn said. "He was very kind and very reassuring. He would do ultrasounds and whatever I needed to put my mind at ease, and tell me that I still had a healthy baby. He didn't have to do that, but he did."
Over his years as a doctor, Brown has learned that communication and relating to the patient is important. "Talk in simple terms, to make sure the patient understands," he explained. "I believe in teaching. And I want to make sure the patient completely understands."
He also believes in building a relationship with the patient. "I tell medical students, 'Just listen to your patient. Sit there and talk with them and speak in simple terms.'"
It is his bedside manner that has earned him accolades from the medical community.
He received the Maynard K. Hine Medallion from Indiana University-Purdue University Indianapolis in 2015; the George W. Sorrels Jr., MD Community Physician Award from the IU School of Medicine Alumni Association in May; and the Doc Hollywood Award from the Indiana Rural Health Association last month. In November, he will be honored with the Gordon T. Herrmann Distinguished Service Award from the Indiana University School of Medicine-Evansville.
In his career, Brown has delivered 6,304 babies, delivering his last on July 5, 2011. He has seen many of the children grow up, and some have become his patients.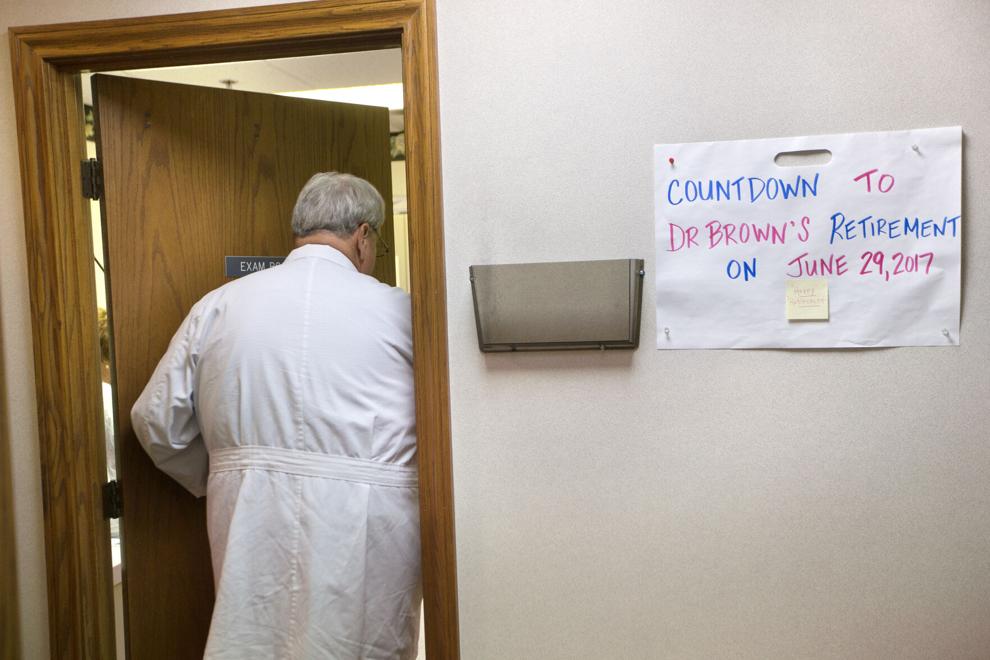 "When my daughter turned 15, who did I bring her to? Dr. Brown," said Angie Rudolph of Ireland, who has been with Brown for 35 years and whose two children Brown delivered. "He's almost like part of my family. I always tell him that he's my person. Like Meredith Grey on 'Grey's Anatomy' always had a 'person.' I always tell (Brown) that he's my person."
As he met with patients on that last day in his office, he thought about all the people he's met and the children he's delivered.
"They tell me, 'You delivered these three, but you missed that one.' And I'm like, 'Oh, I'm sorry. I took a day off.' They always remember the ones I made it to and which ones I didn't," he said. "I've had several patients tell me that they've seen me since they were 15 or 18 and they're menopausal now. And then they start to cry and we'd hug."
Gunn remembered the times Brown went above and beyond the call of duty, in particular by helping her mother, who had multiple sclerosis, about 15 years ago. She had a catheter that needed to be changed monthly, but her doctor was in Evansville.
"My mom could not walk. She was in a wheelchair," Gunn said. "So we always had to physically lift her and transfer her."
Since she was his patient, Gunn knew that Brown had tables that could be raised and lowered.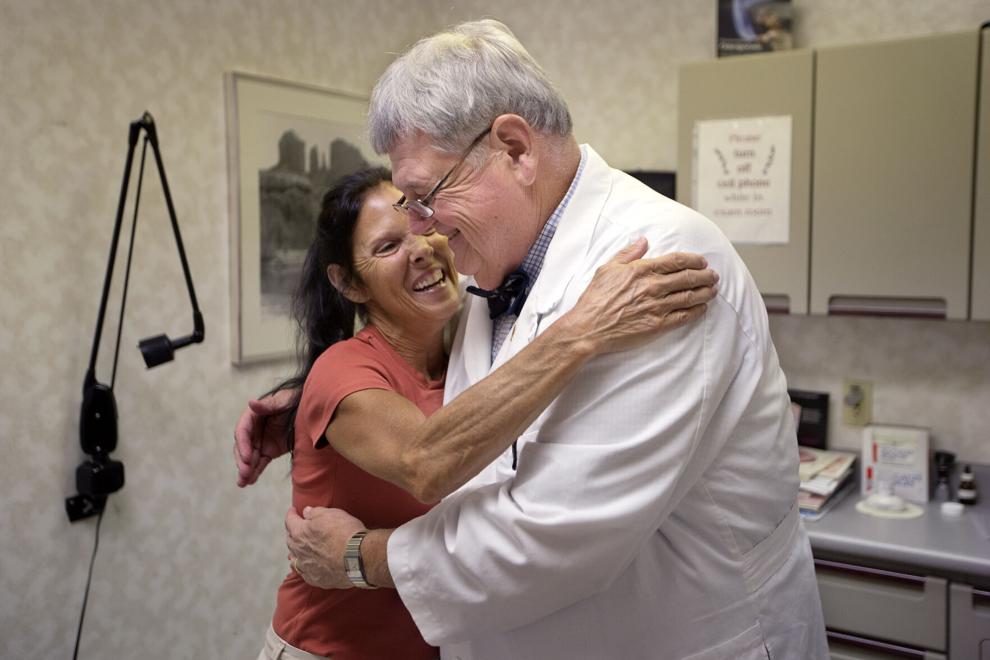 "Because of his tables, I asked him if he would consider taking on mom to do that catheter change," Gunn said. "And he didn't bat an eye. He said of course. So for most of the visits, Dr. Brown and my dad would help Mom get onto the table."
As time went on, Brown and Gunn's father developed a friendship based on a common interest. "Dr. Brown went to school at IU and my dad was a big IU basketball fan," she said. "So there was a lot of IU discussed when dad brought mom in. And he enjoyed it."
Gunn said she was thankful to Brown for taking on the task and being so great with her parents.
"He definitely didn't have to do that. But he more than willingly took it on in his office, to accommodate her health issues," she said. "Otherwise mom would have had to drive over an hour there and an hour back every month. We very much appreciated it."
Brown also supported Gunn in her time of need. In 2013, after having a mammogram Brown ordered, Gunn found out that she had breast cancer. "I was a basket case," she recalled. "He talked me through it and reassured me. He let me know that it would be fine and I'd be here to raise my daughter. He can be very direct with things, but then he's very compassionate also."
Gunn made it through and is now getting checkups every six months. "So far so good," she said.
Brown has a Bachelor of Arts degree in chemistry from IU-Bloomington, a doctorate of medicine from the IU School of Medicine in Indianapolis and did his internship/residency with IU's Department of Obstetrics and Gynecology. He is a clinical OB-GYN professor at IU School of Medicine and has taught for 20 years at the IU School of Medicine-Evansville. He has also lectured at Butler University and IU's School of Nursing. He has been involved with the American College of Obstetricians and Gynecologists, and the American Medical Association.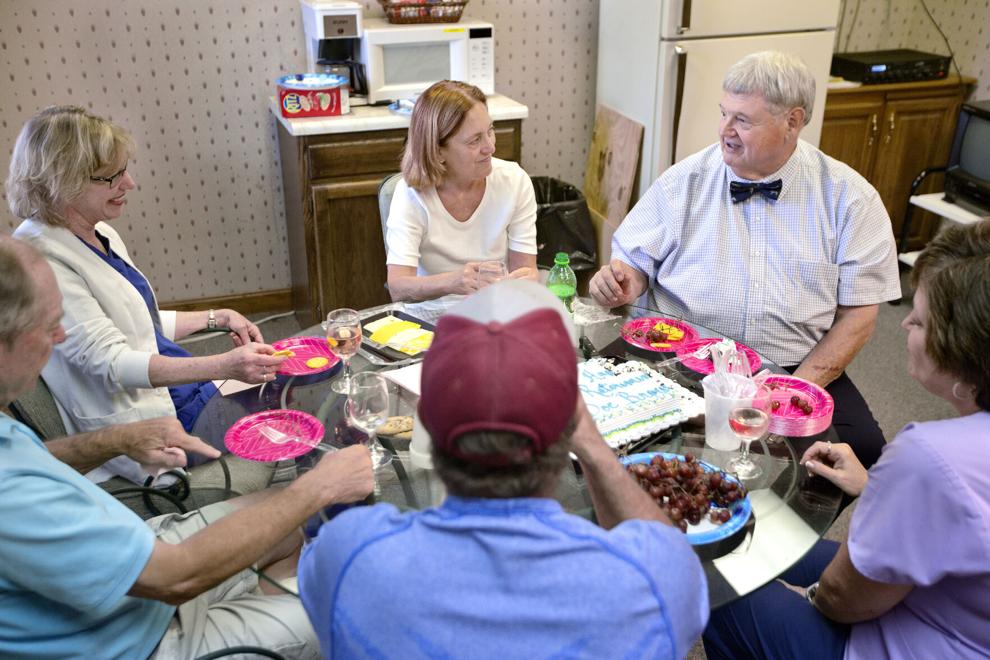 Locally, he has been involved with the Patoka Valley Health Care Cooperative, Vincennes University Jasper Campus, Greater Jasper School Corporation as a volunteer parent and the Jasper Community Arts Commission board.
He and his wife, the former Betty Brang, have three adult children — Krista McGillen, who is a clinical pharmacist in Indianapolis; Jonathan Brown, who is a CPA in Indianapolis; and Katie Brown, who works in sales for Michelin in Orange City, Florida — and two grandchildren, Mitchell and Adeline.
"I could not have done this, been so involved in my career, without Betty's support," Brown said, also saying he's gotten a lot of support from his office staff and Memorial Hospital.
Along with being affiliated with Memorial as a doctor, Brown has served in various positions at the hospital over the years, a sampling of those being chairman of the obstetrics department, the department of surgery and the credentials committee. Currently, he is a professional consultant at Daviess Community Hospital and the liaison to the IU School of Medicine-Evansville's third- and fourth-year medical student programs at Memorial.
He helped to bring graduate residencies in family practice to Memorial, which morphed into having a residency training program consortium between Deaconess and St. Vincent in Evansville, and Good Samaritan in Vincennes and Jasper. Currently, a clinic is being built at the corner of Bartley and 13th streets; it will be staffed with family practice residents and overseen by family practice physicians and other physicians.
"If a student goes to college in an area and does their medical school in an area and then does their residency in an area, the likelihood of them staying in the area is close to 75 percent," Brown said. "And that's what we really need in Jasper and surrounding area: more family practice doctors."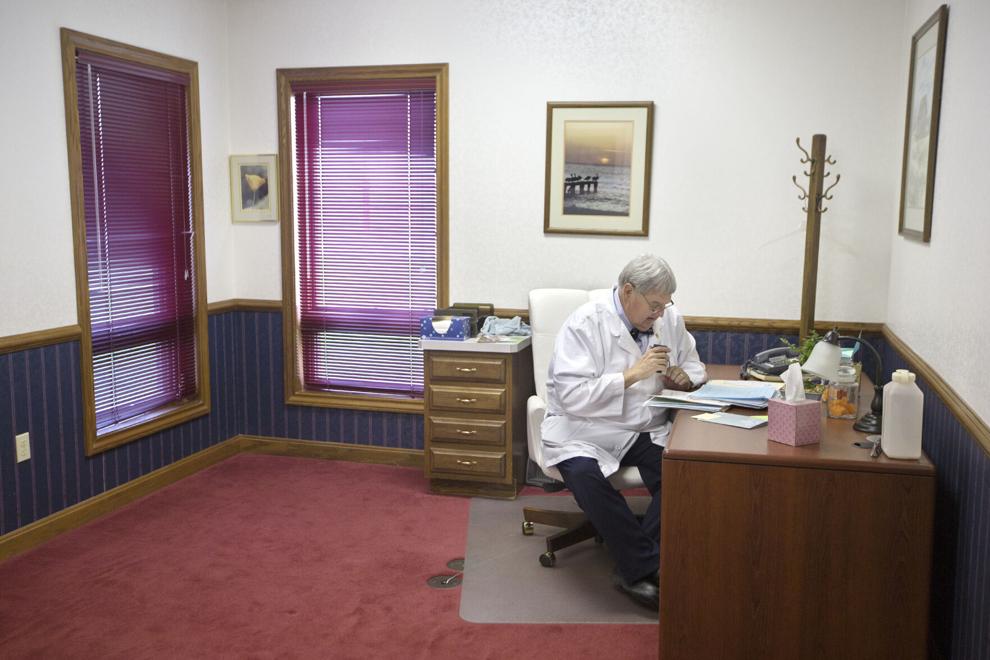 Brown has had a tie to Memorial all his life. "I was supposedly the 50th baby born at Memorial Hospital," he said with a laugh. His parents, the late Clarence "Brownie" and the late Betty, always wanted Brown to go on to higher education.
"From the time I was in first grade, my dad said, 'You're going to college. We'll find a way, but you're going.' Mom was the loving, caring, supporting mother. But dad was the one who was the powerhouse. Mom was the yin to my dad's yang," Brown said.
A young Brown worked at the hospital when he was in high school, scrubbing the kitchen floors and doing odd jobs during the summers. In college, he worked a summer on the medical floor as an orderly and another in the emergency room. He also worked in the operating room before receiving his undergraduate degree. "That experience was invaluable," he said.
Brown became interested in medicine when he was a fourth-grader.
"There was a TV show on at the time called 'Ben Casey,'" Brown said. "He was a brain surgery resident in New York City. And oh my goodness, I couldn't get enough of that stuff."
His schoolteachers encouraged his interest. "Both of my parents worked. So my fourth-grade teacher (Mrs. Nixon) would get these old chemistry sets and let me stay after school and play with the chemistry sets," Brown recalled. "My sixth-grade teacher (Ms. Huff) would give me books she would get from the IU library. And I would read books about being a doctor. They were very inspiring, very supportive."
Brown was on track to be a neurosurgeon.
"I was absolutely certain that I would be a brain surgeon," he said. "There was no question in my mind when I got to medical school, until I took the classes. I was literally getting a B or a C+ in some of the classes that had to do with brains and nerves. But when it came to pelvis and hormones, I was at the top of the class. So it didn't take me long to figure out that maybe I should go with my strongest suit."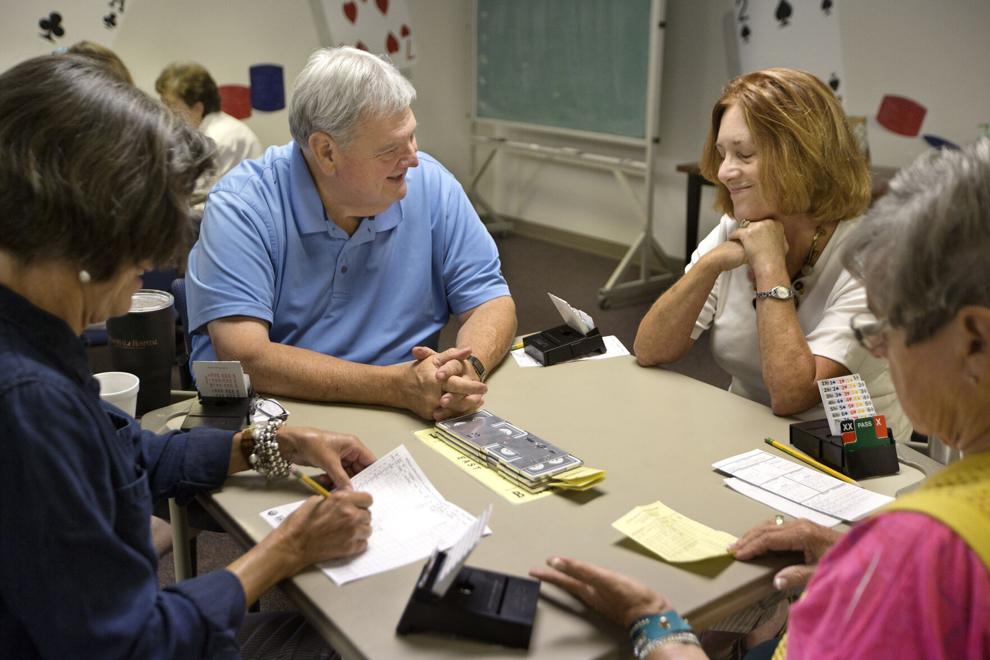 So he changed his track and became an OB-GYN.
Patients have shown their appreciation by giving Brown gifts, cards and food items over the years. "Christmas has been especially good," Brown said. "Not good for my diabetes."
Patients who came on his last day continued that tradition by bringing him cards and tokens of appreciation, including Rudolph.
"He listens to you. You're never just a number," she said. "He's very black and white. If it's something that you need to do, he would say, 'This is what you need to do.' And he is great at explaining things. I think he would've been a great teacher. He listens to you. You were never a number here."
"This is a profession where you develop a relationship with the patient," Brown said. "You don't always have to immediately solve the problem. Sometimes, it's just about holding a person's hand and listening."
In his retirement, Brown plans to do more recreational activities, like traveling with his wife and spending more time with his grandchildren. Although he is looking forward to playing bridge, golfing and gardening, he said he will miss his patients.
And they will miss him, too.
"There won't be another like him," Kern said.