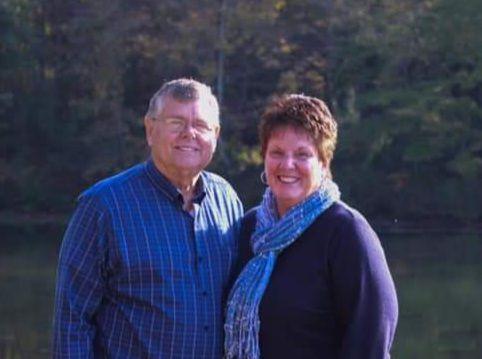 By CANDY NEAL
CELESTINE — Rose Ann (Haas) and the late Charlie Glendening are familiar faces in Celestine.
For years, the couple has helped with preparing food for different fundraisers and events in the community. And they both enjoyed doing so.
"It's just been a passion of ours," Rose Ann said Friday. "We just like to help people and make people feel comfortable, be it wherever we're at."
That dedication earned the Glendenings the Celestine Distinguished Service Award this year. The DSA was awarded in June during an emotional ceremony during Celestine's Streetfest. Charlie died from COVID-19 six months prior, on New Year's Eve. The ceremony, which normally occurs in February, had been postponed because of the virus.
"Charlie and Rose were chosen because of their continued selflessness support of the community," said Brad Schroering, DSA chairperson. "Even though Charlie has passed since the nominations were received in, it was evident the impact he and Rose have made on the community. Charlie loved to help prepare food for all the community fundraisers, and Rose was always by his side helping along."
The Glendenings have worked with many groups and organizations, including St. Isidore Parish, Celestine Community Club, Celestine Park, Good Shepherd of the Hills Knights of Columbus, Celestine's 175th anniversary volunteer team and the Streetfest volunteer team. They also worked with Donnie Sander at Sander Catering for about 15 years.
"Charlie cooked there and we helped deliver meals. We made a lot of great friends that way," Rose Ann said. "So then the Streetfest came up, he decided that he could head the grilling part of it. He and a buddy got that started, and he did it ever since."
Those who nominated the Glendenings for the award are kept anonymous, but they heaped praises on the couple.
"While Charlie was never the lead person for a lot of events, he was a very crucial person in those events going extremely well," one nominator wrote. "Charlie and Rose are the kind of people that make the people in charge look really good when the event is a success without having to have the spotlight on their work."
"Rose and Charlie always volunteer at any event held in Celestine. Behind the scenes Charlie was always helping prepare food, organize workers, and made sure everyone was hydrated," another letter read. "Everywhere Charlie was helping, Rose was close by. When the work needs to get done, she is there to jump in and help. After most people had worked their shifts, she stayed to make sure everything was cleaned up better than when they got there."
Charlie was a Celestine native; Rose Ann is from Jasper, but has moved around some. After she graduated from North Harrison High School in 1972, she moved back to the area for a job.
The couple met through family connections. They have the same aunt on different sides of their family.
"I walked up to him and said, 'I know you. You've got the same aunt as I got,'" Rose Ann said. "He looked at me, and that was all it took."
They got married in April 1977. After living in Ireland for a short time, they moved to Celestine and built a house on land owned by Charlie's family. They have been there for more than 40 years. The couple has one son, Adam, daughter-in-law Kara and two granddaughters, 10-year-old Josslyn and 7-year-old Kendyl.
Along with being with her granddaughters every chance she gets, Rose Ann plans to continue her involvement in community work. "Oh heavens, yes," she said with excitement.
Based on the various nomination comments, the community will continue to welcome her and cherish her service, just like it did her husband's.
"I believe most community members would agree it has been a privilege working alongside them," Schroering said, "as they are such genuine people."